---
To register for Akis Goumas' visiting artist presentation taking place on Friday, March 26, 2021, at 11:30 am EDT, please visit the event page.
---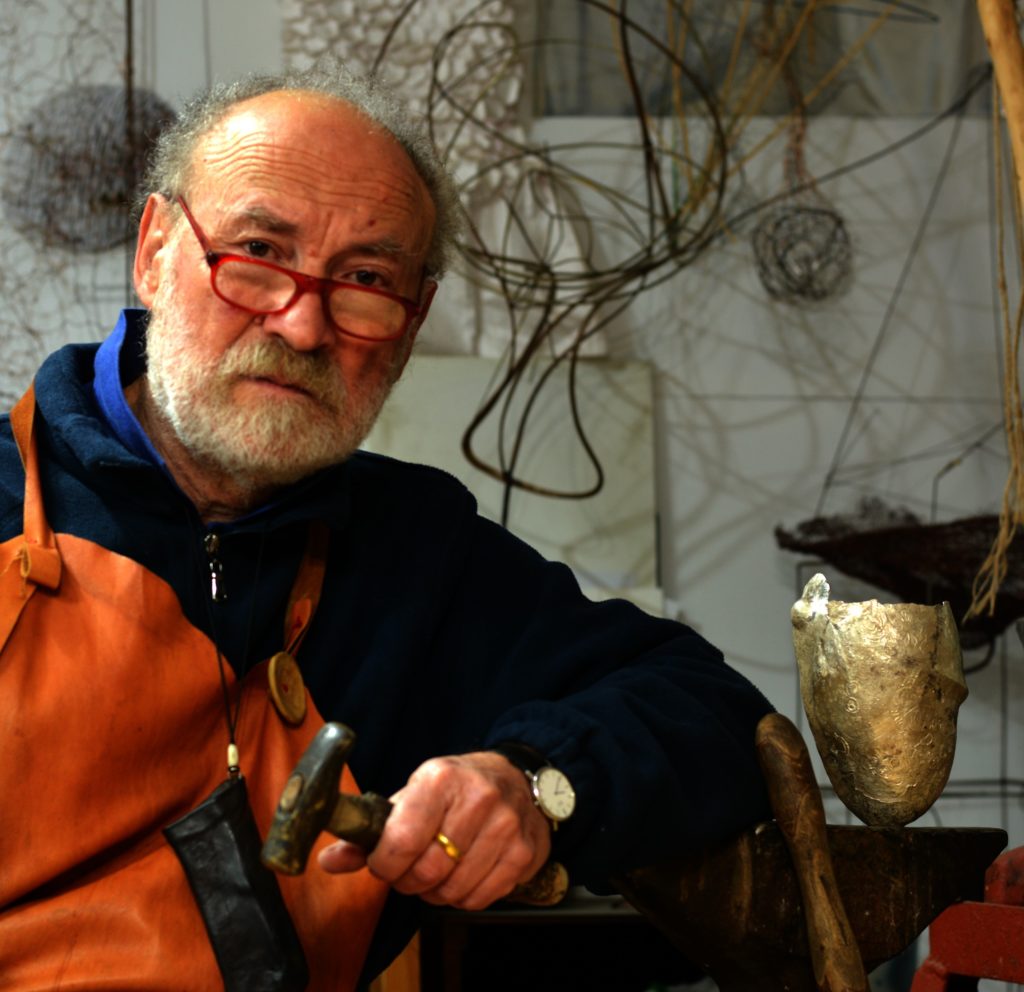 Akis Goumas is a contemporary jewelry maker and researcher of mainly ancient crafting technologies of the Aegean region. He was born in Greece in 1952, and, after receiving his Diploma in Economics, he was trained as a goldsmith and later as a silversmith. From 1982 to 1986 he studied gemology and seal engraving. He is a member of the Greek Chamber of Fine Arts, and from 1989-2005 he was the designer of ONAR S.A. (Jewelry and Object Company). Starting in 2000 and continuing to the present-day he has taught creative jewelry at the Chalkis Jewelry School. Since 2016 he has collaborated with the Alchimia Contemporary Jewelry School of Florence as a visiting teacher. He has also been teaching at ANAMMA Contemporary Jewelry School in Athens since 2016. In 2020 he participated in the European Michelangelo Foundation, and he is a member of Homo Faber Guide 2020-21. During the last 15 years he has participated in more than 30 exhibitions in Greece and European countries. Since 2006 he has been a member of a multidisciplinary team of archaeologists, scientists, and conservators studying and researching the following:
Prehistoric metal technologies of the Aegean region (in collaboration with the National Archaeological Museum of Athens and the Museum of Cycladic Art)
Hellenistic gold smithing techniques (in collaboration with the Benaki Museum)
Minoan seal stone engraving (in collaboration with the University of Heidelberg)
In all of these collaborative projects his task is to trace tool marks in order to identify tools, techniques, gestures, and rhythms of making. He is also interested in learning as much as he can about the prehistoric craftsman.
His appreciation, philosophy, and way of thinking about art has been influenced by these research projects, and, as a consequence, he is actively looking for ways to translate this experience into a contemporary way of making jewelry and objects. Through this experimentation he came into contact with the impact of time and environment on the materials, particularly the effects of erosion and the beauty hidden in the tiny details. This profound impact on his point of view and aesthetics led Akis into a recent body of work where he strives to free himself from technical restrictions, following new paths of making. He seeks to keep the memories of these journeys embedded in his final creations.
Furthermore, he is interested in recording the passage of time into the minuscule details of a larger synthesis, into the layers of erosion, and into the failures that become an essential part of the creative process.
During his presentation he will take the audience on a journey, highlighting the strong links connecting archaeological research projects with his personal creative work.
For further information about the work of Akis Goumas, please see:
https://klimt02.net/jewellers/akis-goumas
https://www.homofaberguide.com/en/discover/artisans-goumas-akis
---
Reactions to Akis' work
Nikolas Papadimitriou, Institute of Classical Archaeology, University of Heidelberg
The work of Akis Goumas is important not only because it provides answers to complex technical questions, but also because it travels us into the minds of ancient craftsmen. Akis has the ability to verbalize intangible aspects of artistic work and to explain in simple terms how mind and body cooperate in the making process. His work is invaluable to those researching the concept of artistic skill and the role of craftsmen in ancient societies.
Eleni Konstantinidi-Syvridi, Curator, National Archaeological Museum, Athens
The key-role of Akis Goumas in our project for the reconstruction of ancient techniques has offered us a new perspective on how to appreciate ancient gold work; being our connecting link with the ancient craftsman, Akis has taught us to appreciate in an artifact the labor and technological skills of its creator. He helped us to clarify the –hitherto unknown- use and function of ancient tools and to correct misinterpretations on the terminology of techniques that were for long recycled in archaeological publications. Eventually, Akis taught us how to benefit the most from the importance of the production chain, the manufacture, and decoration stages that help us to identify ancient workshops and technological transfer.
---