---
To register for Steriani Tsintziloni's visiting artist presentation taking place on Friday, April 9, 2021, at 11:30 am EDT, please visit the event page.
---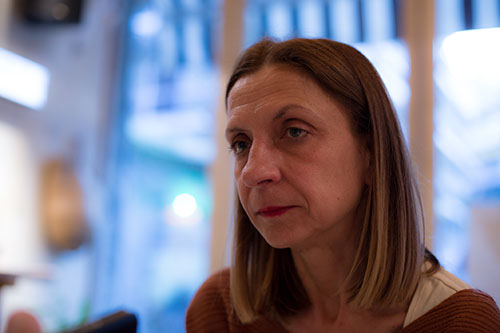 Steriani Tsintziloni is a dance researcher, curator, lecturer, dramaturg, and former dancer. By writing, collaborating, teaching, researching, and presenting dance she works at the intersection of theory and practice with a special interest in the entanglement of dance curation, practices, and historical research in Greece. Currently, Steriani lectures on dance history (Department of Theatre Studies-Athens University, State School of Dance, Professional Dance School of the Greek National Opera). Also, she was invited to be co-curator for the Onassis New Choreographers Festival 8 (2021), which includes exclusively digital works and writes on dance improvisation in projects by choreographers Ioannis Mandafounis and Sofia Mavragani. She has been the Dance Curator for the Athens and Epidaurus Festival (2016-2019), Associate for Programming and Research for the Kalamata International Dance Festival (1998-2015), and a research collaborator for I. & R. Duncan Research Dance Centre.
Steriani studied dance at the State School of Dance (Athens, 1991) and pedagogy at the University of Crete (1994). She received an MA in Dance Studies (University of Surrey, 1998), with an Onassis Foundation scholarship, exploring the work of choreographer Zouzou Nikoloudi on chorika of ancient drama, a practice she was familiar with as a dancer in her company. Her PhD from the University of Roehampton (2013) is the first academic research on contemporary Greek dance in the 1990s and notions of 'europeanisation' and 'modernisation' as embodied, social and political concepts.
Her practices and research focus greatly on dance history and practices in Greece. This led her to investigate the dance programming of the Athens Festival during the Cold War, a research project conducted with Dr. Stacey Prickett (University of Roehampton) and supported by the British Academy – Leverhulme Small Research Grants (2016-2018). Her explorations on history, body, archive, and memory took different formats and research frameworks. Her collaborative projects include: "Encounters in Synchronous Time" (2010-2011), a Research Cluster of the Performance Studies International network on the theme of contemporaneity; "Working practices: Here and Now" (2013-2016), an investigation of working conditions of dance artists in Greece by a dance maker, a dance historian, and a dance journalist; "ZOOM in! Sensing the world through the minor" (2018-2020), a research project on craftmanship and dance with artisans and performance artists stemming from Raymond Duncan's philosophy of 'actionalism'; "Map of Contemporary Dance in Greece", a collective multi-format project of mapping and presenting dance in the years of crisis (2013-2015); and her own lecture-performance "Our Childhood is our Motherland" (2013-15), a semi-fictional lecture-performance investigating notions of personal and collective memory in relation to Greek history.
Throughout her scholarship at the CHS Steriani looked at Homeric epics as artifacts of composition-in-performance and contemporary choreography as a form of research-as-practice. In her performative presentation she will navigate audience through different modes of engagement with language and the body based on an excerpt from the Iliad as a performance of possibilities.
For more information on Steriani's work, please visit: https://tsintzilonisteriani.wordpress.com/.
---