Mnemosyne – Traversing Boundaries on Meandering Routes of Memory
The Hermes Group
…the statue not yet a statue, the plate not yet pressed…
'The Hermes Group', an ongoing project by Albert Bonay and Zachery Dietrich, explores the histories, legacies, and impacts of Mediterranean presences. An alchemic mixture of printing processes (which are made dysfunctional) are shifted to sculptural language. Travel from the edges of the Mediterranean are played through the collection of objects, representations of forms, and systematic narratives. Hermes as traveler, as messenger, and as the mischievous one are equalized through literal and subtle motifs. Attributing the work as portable, 'unprinted', and modular, lending itself to the conversational and the adaptable, Bonay and Dietrich work through etching, curating, assemblage, and literary techniques to achieve these means. In their work, Barthes 'A Lovers Discourse' and the legacies of Post-Surrealist, South American writers, such as Borges and Cortazar, are leveled against the classics. Where ancient and modern nostalgias are played through the recounting of myths, currencies, objects, and monuments, The Hermes Group, together acting as engravers and sculptors- playing at archaeologists, serves as a measure between the digital, ready-made, and analog. Through the use of texts, diagrams, and digital media, a synthesis of the works become a process of display, archive, and action.
Albert Bonay is an artist working in etching, sculpture, and painting. His work explores the subject of the ruin through the post-industrial complex. Bonay's investment in the processes of reproduction, through traditional techniques, lends itself to the artifact, resulting in works that are a proposed synthesis of architectural and anthropological studies.
Zachery Dietrich is a sculptor and writer working primarily through the processes of the ready-made and assemblage. His work explores the mutations of the Athenian throughout time, playing at the creation of 'philathenianism'. Utilizing the theories of various restorations, Dietrich's work is flexible, flat-pack, and portable, resulting in unique 'memento style' objects.
www.thehermesgroup.eu
@thehermesgroup
thehermesgroup.eu@gmail.com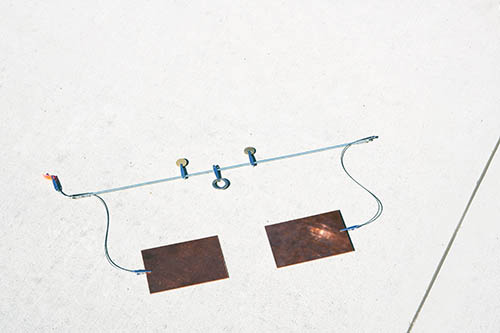 ---
ALBERT BONAY (born 1990)
albertbonay@gmail.com
www.albertbonay.com
Solo Exhibitions
2018, Jardín de senderos que se bifurcan, Galeria Espai B (Barcelona)
2018, Todas las Almas, Krstorebackyard (Barcelona)
2017, Revisiones II, Luxury S, (London)
2016, Works On Paper, Store Street (London)
Group Exhibitions
2020, What's fear? Queer Arts Festival – (Thessaloniki)
2019, Setmana Blanca."Escultura Mutante" Massana (Barcelona)
2018, Nous Talents. Facultat de Belles Arts. (Barcelona)
2018, Col·lectiva d'estiu, Galeria Espai B (Barcelona)
2018, Albert Bonay, Mercè Hernanez, Marta Poca, Galeria Espai B (Barcelona)
2017, Col.lectiva d'hivern. ESPAI B (Barcelona)
Prizes and Scholarships
2014, Beca de producción. Grabado Calcográfico, Fundación Xavier Nogués (Barcelona)
2014, First prize Illustration Awards, Jägermeister, Galería Maxó (Barcelona)
Education
Current- Tècniques Escultòriques. Escola Massana. (Barcelona)
2013, Postgrado en Creación Contemporánea, IDEP (Barcelona)
2013, Postgrado en Fotografía Documental, IDEP (Barcelona)
2012, Licenciado en Bellas Artes, Universitat de Barcelona (Barcelona)
2012, Bellas Artes, Accademia di Belle Arti di Brera (Milano)
2011, Pintura de Creación, Escola Massana (Barcelona)
---
Zachery Dietrich (born 1994)
zacherydietrichsculpture@gmail.com
www.zacherydietrich.com
Selected Exhibition History
2020, Supergroup, Superhouse (New York)
2019, Souvenirs d' Athènes 2, Alibi Gallery (Athens)
2018, Megalopolis, Keiko Rochaix Yamamoto Gallery (London)
2018, Furniture for Leisure, Parallel Space (Toronto)
2018, Souvenirs d' Athènes 1, Alibi Gallery (Athens)
2018, GMO, pop up exhibition (Athens)
2018, Mart Projects, We Are Bud (Athens)
2018, The Columns of Morgagni, Safe-house Gallery (London)
2017, MONO artist film screening (London)
Education
2017, ΒΑ Fine Art (sculpture) Chelsea College of Arts (London)
2014, Foundation Diploma (sculpture) Central Saint Martins (London)
---