---
Mnemosyne – Traversing Boundaries on Meandering Routes of Memory
Salvage
My Mnemosyne project is called Salvage, because I am attempting to salvage memories from the past and use materials salvaged from old buildings to portray a fragmentary memory experience.
It is not my intention to share my specific personal memories, but it is my aim to be true to those memories. By letting the work speak for itself I hope to leave it open to other peoples' experience and interpretations.
The suggestion by Artemis Herber at the beginning of the project that the Goddess Mnemosyne would give both permission and protection in 'remembering what has to be remembered', was a spur to deepen and clarify the work which up until now I have only tackled obliquely.
Memory, and the potential trauma it encases, can be kept in an endless, closed circle or loop which in itself forms the trauma. For Mnemosyne this was released by marriage to Zeus and then the birth of the Muses. It is the muses, expression through them, that releases the memories and offers potential to move on from them. Thus my aim is to use sculpture and drawings, outlets of the muses, to open up the closed loop and move on and 'salvage' material from the past which might be constructive in the future if reframed.
The past both influences the present and determines the future. Memory is often held in the body, and the book The Body Keeps the Score by Bessel van der Kolk has accompanied me through this project.
But this is not simply a project of personal memory. Just as each of us only holds a fragment of collective memory, each of our own individual memories are fragmentary. The artworks I have made are fragmentary in nature to reflect this – both in terms of the way the body is depicted and in terms of the architectural devices which signify the domestic environment. But each one piece can stand for the whole. Beyond individual fragmentary memories there is the collective memory of women subjected to the Gaze – subjected to being observed and judged. Specifically, this project refers both to female sexuality – the contradiction in the way it is both hidden from society and yet a focus of it – and to the way in which women have been contained within the domestic sphere. My personal tiny fragments of memory exist and are embodied in the present and within the artwork I have created for this project, but also within the larger strata of female memory as a whole. Widening out even further, this is part of human memory, which again is only a fragment of what makes up Earth memory.
---
Anna Gillespie
Anna Gillespie is a contemporary figurative sculptor whose intensely emotional representations of the human form are made from materials as diverse as masking tape, bronze, found objects, clay, and fabric impregnated with plaster. Her work varies in scale from life-sized figures to more intimate and domestic pieces.
Anna's crucible is the human form, within which the personal and the archetypal are inextricably entwined. Gillespie's sculptures often explore the juncture between personal psychological experience and encounters with the powerful forces of the natural world.
Anna Gillespie was born in 1964. Having obtained a degree from Oxford University in philosophy and politics and then gone on to study international relations at the London School of Economics, 1992 saw a change of direction and the decision to become a full time sculptor. Anna qualified as a stone mason in Bath before travelling to Italy to study with the sculptor Nigel Konstam, and then completing an MA in Fine and Media Art at Cheltenham.
Anna Gillespie has work in the collections of The Prudential, Burghley House Sculpture Park, The Somerset Museum, Chippenham Museum, Museo Arte Contemporanea Sicilia, Bodrum Sculpture Park in Turkey and also in private collections throughout America, the Middle East and Europe.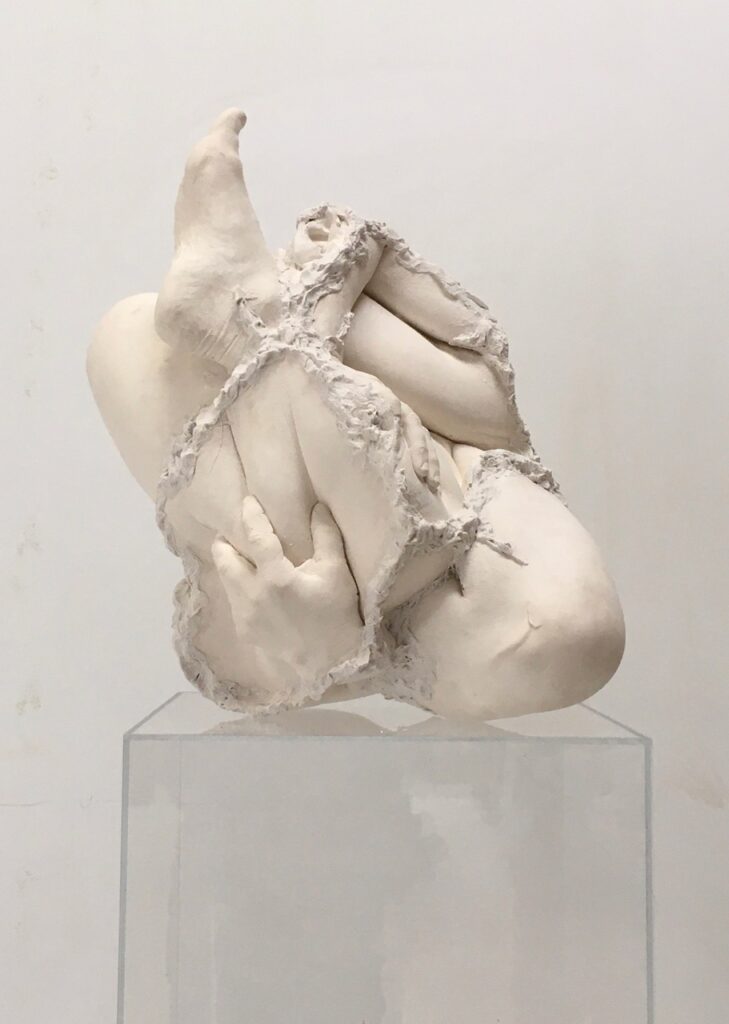 Education and Training
1996-98 MA Fine Arts, Cheltenham
1995 and 1997 Studio assistant to Nigel Konstam at the Centro d'Arte Verrocchio. Italy
1986-87 Diploma International Relations, LSE
1983-86 BA Hons, Wadham College Oxford
2021
Digital London Art Fair with Beaux Arts Bath
New Orientations. Digital exhibition with Bath Spa University
Private Commission in Yorkshire
Chippenham Museum collection
Abbey House Gardens, Malmsbury. Group sculpture show
2020
Watermans Art Centre, London. Solo exhibition plus dance performance collaboration
Beaux Arts Bath, Solo
London Art Fair with Beaux Arts Bath
Harvard University panel discussion Festival of the Muses, Centre for Hellenic Studies
RWA Open Exhibition online
2019
Commission for Morecambe Bay Partnership at Half Moon Bay, Lancashire
Elected Academician at the Royal West of England Academy
Collaboration with Richard Chappell Dance, funded by Linbury Trust and Arts Council, performances at Royal Opera House, Oxford and Phoenix Exeter
CoLab Drawing Residencies, Historic Collections and Owlpen Manor
Solo, Alderney Performing Arts Festival, Fort L'Etoc
Open Studio, Larkhall Studio Trail, Bath
The London Art Fair, Beaux Arts Bath
The Hepworth Wakfield Print show with Spike Island Print Studio
Shortlisted for Women Make Sculpture prize organized by the CoLab
2018
Public sculpture installed, Bath Riverside.
CCA International, Jersey. Two person exhibition.
RWA Autumn Exhibition, Prospective Academician
Beaux Arts Bath. Solo exhibition
The Steel Rooms. Solo exhibition. Brigg, Grimsby
Grizedale Sculpture Park. Group RBS exhibition. Inspired by Nature
Became a member of Spike Island Print Studio
2017
Installation 'The Waiting'. Baltic Triangle, Liverpool
Society of Women Artists. Group show. London
Royal West of England Academy, Drawn group show
Beaux Arts Bath, London Art Fair
Residency. Drawing Projects UK, Trowbridge
CCA Galleries International, Jersey. Four person show
2016
Acclimatize E-exhibition Moderna museet, Stockholm
The Pound Arts Centre, Corsham. Solo exhibition
RWA, Autumn Exhibition
Beaux Arts Bath. Solo exhibition
Open Studio Show, Bristol
Lacock Abbey, group show
Became a Membership of the Royal Society of Sculptors
2015
Glastonbury Festival, Greenfields gateway commission
RHS Chelsea Flower Show with Chris Beardshaw
Frensham Heights School Commission
Solo exhibition, Beaux Arts London
Group exhibition, Homo Sapiens, Beaux Arts London
2014
National Trust Headquarters, Heelis, Swindon
Glastonbury Festival, Greenfields gateway commission
Art in Action, Gateway installation, Oxford
Alderney Performing Arts Festival, site specific installation
Beaux Art Bath, Solo
London Art Fair, Solo Stand , Beaux Arts Bath
RWA, Autumn Exhibition
2013
5 Person Show, September Beaux Arts London
Gloucester Cathedral, Open West group Show
Solo Show, Beaux Arts Bath
160 Autumn Exhibition, Royal West of England Academy
RHS Chelsea Flower Show, Chris Beardshaw Gold Winning Garden
Glastonbury Festival, Greenfields gateway commission
2012
Two Person Show, Beaux Arts Bath
Summer Show, Beaux Arts, London
RWA, Autumn Exhibition
2011
Solo Show – Beaux Arts Bath
Permanant installation, Burghley House, Sculpture Garden
The Big Draw Self-Portrait Drawing Show, Chapel Row Gallery, Bath
2010
Exhibition with Peter Randall-Page and Sarah Gillespie. Waterhouse & Dodd, London
SEEDS Film Festival. Minneapolis, USA
London. Victor Felix Gallery, Three person show
1993-2009
Various group and solo shows. Full CV available on request.
---