Mnemosyne – Traversing Boundaries on Meandering Routes of Memory
Curator Statement
Within the framework of the Delphic Preview and Reinstatement of the Delphic Games, the program stays true to identified ideas of:
– Peace (through cultural diplomacy)
– Culture (freedom of creative expression)
– Reverence for the environment
As the guest curator for the Material Culture Program for Visual Arts, I intend to develop a sequel to the Delphic Preview for the Re-instatement of the Delphic Games.
With the support of the Center for Hellenic Studies, the Mnemosyne project is defined as an exploratory arts initiative with the theme of Mnemosyne – Traversing Boundaries on Meandering Routes of Memory.
Visual memory inspires artistic alternatives and alternating courses within margins of time and today's realities. The Mnemosyne project will set new standards: artists look into history, narratives, and stories in recognizing the present as a reminder for the future. Besides, through collaboration, thought-exchange, workshops, and extended introspection, the project traverses the boundaries between a vast range of disciplines, such as art history, philosophy, anthropology, and current scientific fields that are fundamental for artistic visual and material practices today.
The project's title comes from the Greek Titan of memory and mother of the Nine Muses. With the support of the Center for Hellenic Studies through online meetings and virtual interdisciplinary workshops, ancient ideas inspire artists for their studies and artistic exploration and give artists more time to reflect on a memory that resonated within a period of a world-wide health crisis, instability, and change.
Aby Warburg, the creator of the "Mnemosyne Atlas," calls for a "comparative view" of highlighting visual aspects in art history, especially Hellenistic ideas, in which artists are encouraged to investigate how those perspectives persist into the present. How does the concept of memory and experiences of destabilization activate and inspire artistic practice? How do artists weave new correspondences between times and discover new perspectives through connections within time (history, memory, or trauma)? The Mnemosyne project motivates exploring links from other disciplines, creating partnerships, and forming collaborations that lay out passages of current concerns and inspire novel ways to confront the past and shape the present and the future.
---
Artemis Herber
German-born artist Artemis Herber has exhibited in US, Germany, UK, Italy, Portugal, and Spain. Highlights include American University Museum of the Katzen Art Center, Washington DC, Landscape in an Eroded Field, Kunstverein Paderborn Lost Spaces, Goethe-Institut, Washington DC, Cardboard City, Spartanburg Art Museum (un)common space(s), San Jose Museum of Art This End Up, National Trust's Newark Park, Cheltenham Museum, and Albright-Knox Gallery NY, Beyond Western New York. Solo exhibitions include Erratic Landscapes, MPA, Autochthon, Arlington Arts Center, Shifting Identities/Humanity in Nature, Montgomery College and Liminal States, Delaplaine Arts Center.
Herber engages in International Cultural Relations with NRW KULTURsekretariat. As Transatlantic Cultural Projects curator, Herber created Micro-Monuments at the Salzlandmuseum, Germany, and the Center for Hellenic Studies of Harvard University, Washington DC, and Micro-Monuments II – Underground, International Arts&Artists at Hillyer, Washington DC. As former president of the Washington Sculptors Group, she initiated concepts for Art in Nature and land-use projects. Artemis continuously commits to the re-instatement of the Delphic Games through the material culture program of the Festival of the Muses, 2019, at the Center for Hellenic Studies, Washington DC. Currently she engages in the Mnemosyne Initiative, an international collaboration with artists addressing works of memory in times of pain, trauma, and isolation.
Her research upon the Anthropocene embedded in the field of polit-myth and experimental geography has been deepened through residencies at Rensing Center, the CoLAB, London, Skopelos Foundation of Arts, and Lakkos Residency, Greece.
Public Art installations: Munich International Airport, Germany, Public Library Paderborn, Germany, Navy Pier, Waterfront in Washington, DC, Patterson Park, Baltimore MD.
Herber is a prize recipient for The National Weather Biennale (Noman, OK) Best in Show Award winner and a Sondheim Semifinalist at MICA, First Prize Award by Maryland Federation of Art at MD Art@College Park MD, Paderborner Kunstpreis, Artist Award, Woldemar Winkler Award, and Dr. Sander-Wietfeld Promotion Award, Kunstverein Paderborn NRW, Germany. Since 2014 she has been granted Member of the Royal British Society of Sculptors.
Her work has been featured in various publications, such as Mapping Meaning Journal, LandEscape Now!, Studio Visit Magazine, Art Ascent Art & Literature Journal, One Hundred Days by Contaminate, NYC, in an Artist Interview Series through the Linus Galleries LA, and many more.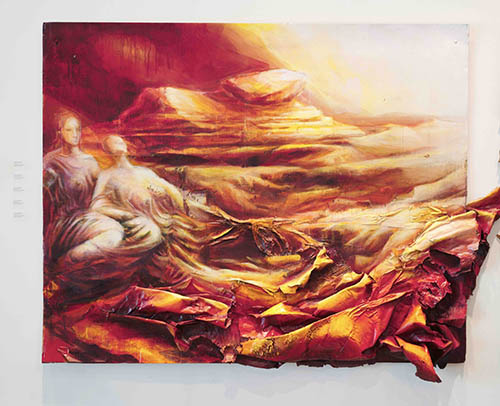 ---