Athenian Law
Introduction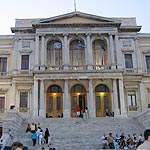 "Athenian Law in its Democratic Context" features lectures by scholars and bulletin boards for discussion moderated by classicists. Until recently Athenian law was generally disdained as chaotic, dominated by rhetoric, and amateurish — especially when compared to Roman law. But in the last twenty years, Athenian law has become a topic of exciting new work bringing together legal, historical, anthropological, and literary research to shed light on both the nature of the world's first large-scale democracy and, more generally, the place of law in a democratic society.
Discussions
Discussions moderated by Brendan Boyle (U. Chicago), Michael DeBrauw (U. Texas at Austin), John Dillon (Yale), Curtis Eastin (Yale), Edward Harris (Brooklyn College), Adriaan Lanni (Harvard), Ayelet H. Lushkov (Yale), Jess Miner (U. Texas at Austin), David D. Phillips (UCLA), and Jacob Spencer (Yale).
Related Information
Like other On-line Discussion Series hosted by the Center, "Athenian Law in its Democratic Context" is free of charge, and designed to interest a broad audience. No knowledge of ancient Greek history or law is assumed. There are no prerequisites, and all material will be available in English over the internet.
Please note that this series is a non-credit educational offering. The CHS does not offer courses for any sort of institutional credit nor does it charge fees for courses. Neither the CHS nor any of its partners can provide acknowledgement or certification of participation by individuals in the CHS lecture and discussion series. Although the CHS is part of Harvard University, the CHS does not award degrees or certificates. The CHS also does not offer these discussion series with the goal of providing course material to institutions wishing to charge fees for or provide certification for distance education courses.

---