Date: Friday, 4 November 2022
Time: 11:00am – 12:30pm EDT on Zoom
Join us for a discussion with glass artist Felekşan Onar, and writer and curator Arie Amaya-Akkermans on their collaborative exhibition After Utopia: The Birds.
After Utopia: The Birds is an art exhibition that combines modern glass birds—metonyms for refugees—with Aegean area art from the early Hittite through the Byzantine periods. The exhibit is on view from September 10, 2022 to February 28, 2023 at the Sadberk Hanım Museum in Istanbul, Türkiye.
In addition, they have created a modern multilingual play based on Aristophanes's Birds and Homer's Odyssey. The play has been filmed using an international cast.
This event presents a recording of the performance, a tour of the Sadberk Hanım Museum and a conversation with the curator and artist. The discussion will be moderated by Joel Christensen, professor of classical studies at Brandeis University and host of Reading Greek Tragedy Online.
For more information on the exhibit, please visit the Sadberk Hanım Museum's website.
About the Panel
Arie Amaya-Akkermans was born in Bogota, but lives and works in Istanbul, previously Beirut and Moscow. He is the co-editor of the art theory platform "Perambulation". His writing appears regularly on The Markaz Review and in the popular classics blog Sententiae Antiquae, and has appeared previously on Hyperallergic, Artnet, Art Asia Pacific, Al-Monitor, Canvas, and RES Art World, and as the guest editor of ArteEast Quarterly. He has contributed to a number of artist monographs on contemporary artists in Lebanon, Germany and Turkey. A former recipient of the IASPIS expert fellowship in Stockholm, his public appearances include Garage Museum of Contemporary Art, IFA Berlin, Museum of Oriental Art and Art Basel. He is a regular commentator on issues of heritage and conservation in Turkey and the broader Middle East.
Cihan Andaç is an archaeologist/curator at Sadberk Hanim Museum in Istanbul/Turkey. He is a graduate of BA in prehistory from Istanbul University and MA in tourism guiding and recreation from Ege University. His dissertation is entitled as "A research on the impact of the guided tours on visitors museum experience: The case of Sadberk Hanim Museum".
Müge Arseven is a specialist of Classical art and curator of the antiquities collection at Sadberk Hanım Museum in Istanbul, Turkey. She completed her BA in architecture and MA in architectural history at the Istanbul Technical University in 2011 and 2013, respectively. In 2022, she received her PhD degree from the Art History and Archaeology Department at Columbia University with her dissertation entitled "Sacred Architecture in Greek Vase Painting: Between Reality and Representation." In addition to Classical art and archaeology, her research interests include artistic interactions in the ancient Mediterranean, history of archaeology and collecting, the reception of antiquity in contemporary culture, and the semiotic mutability of visual language.
Felekşan Onar was born and raised in Turkey, and completed her studies at Cornell and Harvard, before undertaking formal education in glass making at Glass Furnace, Istanbul. She works out of her atelier in Istanbul, and regularly spends time in Berlin, Venice and New York. Her work deals with notions of identity, historical narratives and the impact of politics on society, while drawing on sources from her personal history as well as collective memory. Her traveling exhibition "Perched" was shown at the Dresden State Art Collections (2020-21), the Victoria & Albert Museum, London (2019) and the Pergamon Museum, Berlin (2018). She has taken part in the international glass festival at Venice Glass Week since 2018. Her work is included in the collections of all the institutions above, as well as the National Art Glass Gallery (Australia), and the Finnish Glass Museum (Riihimäki), among others.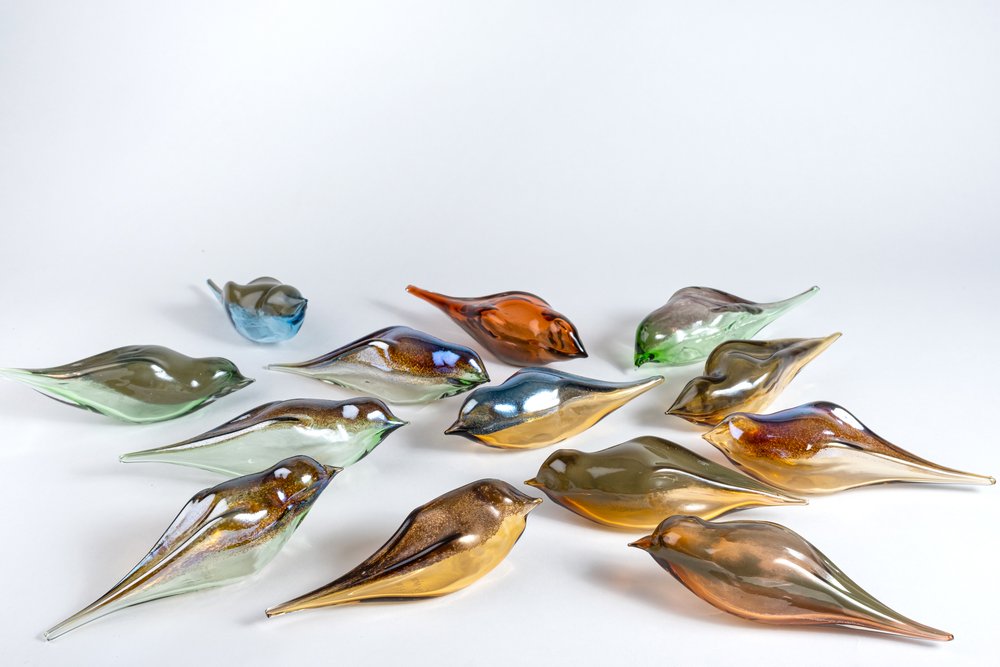 ---