A Celebration of the Dances of Isadora Duncan & the Greek Ideal
Saturday, April 16, 2016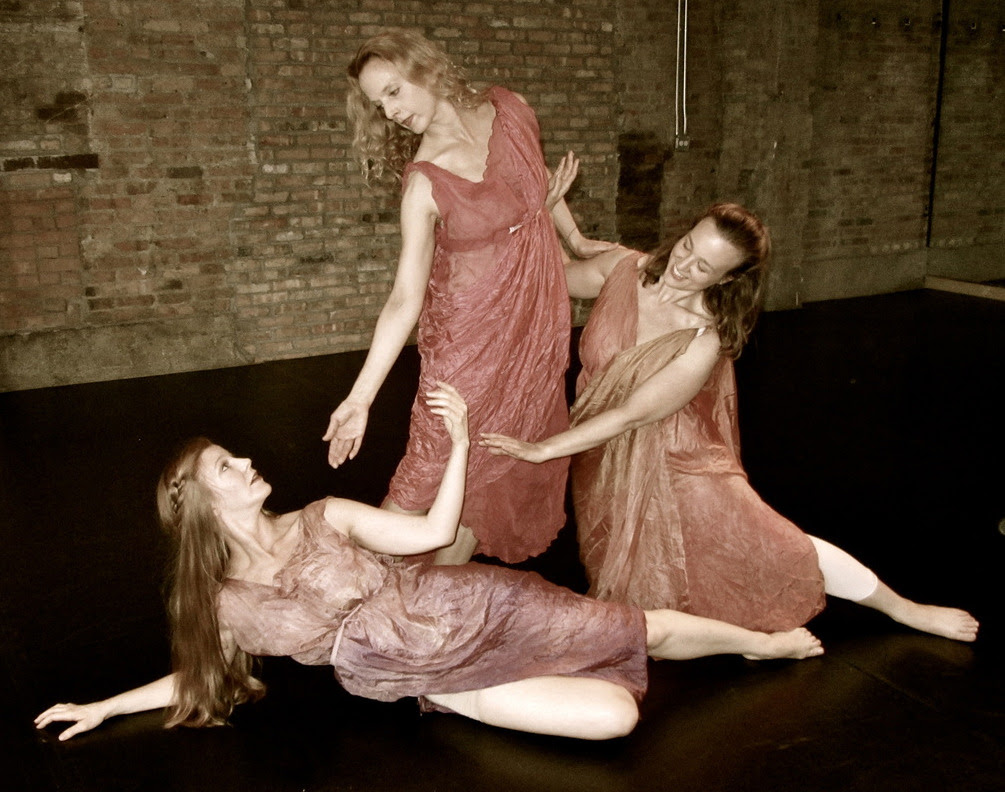 A historic event in dance in Washington, DC – a performance of Isadora Duncan dances at the Center for Hellenic Studies.
Admission: Free. Attend any or all portions of the day's events.
Registration required for the panel discussion and reception.
Rain or shine. Dance performances appropriate for children and families.
Directions and Visitor Information
Overview
"Maenads & Muses: A Celebration of the Dances of Isadora Duncan & the Greek Ideal" brings together the artistic and the scholarly with performances of Isadora Duncan dances as well as discussions of the influence of the Greek aesthetic and philosophy.
Outdoor Dance Performances 3-5pm
Dances of Nature, Love & Friendship by Isadora Duncan
featuring the Duncan Dance Project & local guest dancers
Panel Discussion 5:30-6:30pm
"Ancient, Modern, Now: An Exploration of Dance & the Greek Aesthetic"
with members of the Duncan Dance Project and Center for Hellenic Studies scholars
Courtyard Performance 7-7:30pm
"Maenads & Muses" with the Duncan Dance Project and local guest dancers
Reception & Talkback 7:30-9pm
Sponsored by the Center for Hellenic Studies
For more information, see www.duncanschool.com.
Program Notes
The Isadora Duncan repertory dances on this program have been passed down through a direct lineage of Duncan dancers, from the schools of Anna Duncan, Irma Duncan, and Maria-Theresa Duncan. Fourth generation Duncan dancers Meg Brooker, Valerie Durham, Julia Pond, and Jennifer Sprowl have coached and performed extensively with Duncan master teachers who trained directly with first and second generation Duncan dancers, including Lori Belilove, Jeanne Bresciani, Barbara Kane, Hortense Kooluris, and Julia Levien. The versions of the dances on this program were collaboratively staged by the performers. More information about the Isadora Duncan repertory dances and direct lineage dancers can be found at www.isadoraduncanarchive.org.
Duncan Dance Project Company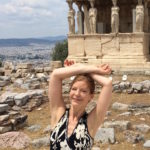 Meg Brooker, Assistant Professor, Middle Tennessee State University, is a founder and steering committee member of the Isadora Duncan International Symposium and a former member of Lori Belilove & Company/Isadora Duncan Dance Foundation. As a Duncan dancer, Meg has performed in national and international venues including The National Portrait Gallery of the Smithsonian, the Dallas Museum of Art, Museum of Fine Arts Houston, the Art Monastery (Italy), Erarta Museum of Contemporary Art (St. Petersburg), American Center of Moscow, PROJEKT Fabrika (Moscow), and the ancient Greek ruins at Chersonesos (Crimea), among others. Meg directs the Duncan portion of Dancestry, recognized in 2015 as "Best of the Arts in Austin" by the Austin-American Statesman. Meg is also working to historicize Duncan contemporary Florence Fleming Noyes and has presented scholarship on early twentieth century dance for Society of Dance History Scholars, Congress on Research in Dance, National Dance Educators Organization, and the Schools of Philology, Psychology, and the Arts at Moscow State University. www.megbrookerdance.com.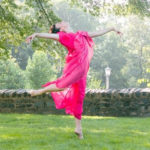 Valerie Durham is a direct lineage Duncan Dancer who has studied the Isadora Duncan technique since 1992, and trained as a dancer in ballet, tap and jazz. She is the Artistic Director of The Duncan Dancers, and the Director of the Isadora Duncan School for Creative Movement & Dance in the Washington DC area. Valerie studied and performed as a Company Member with the prestigious Lori Belilove & Company in New York City, and has studied with Duncan Dance Masters Lori Belilove, Jeanne Bresciani, Barbara Kane, Julia Levien and Hortense Kooluris, as well as many other Duncan luminaries. She has performed the Duncan repertory, as well as her own Duncan-based original choreography, nationally and internationally. Valerie is a Teaching Artist with the John F. Kennedy Center for the Performing Arts, served as the President of the Word Dance Theater Board of Directors and earned a Masters of Fine Arts degree in Dance at the University of Maryland in 2012. Valerie has helped spearhead the formation of the Isadora Duncan International Symposium and is a member of the IDIS Steering Committee and chair of the Isadora Duncan Archive Project. www.duncanschool.com
Julia Pond is an independent artist based in London, whose experience of Duncan dance since 2001 deeply influences her contemporary choreography and teaching. Her 2012 work, Bach Motets, a choreographed concert conceived by Crispin Lewis and performed with baroque ensemble the Musicall Compass, premiered at St. John's Smith Square, London. Julia's 2010 work Song of the Sibyl has been presented by London's Cloud Dance and Scenepool Festivals, Rome's Exitart, Jennifer Muller/The Works NYC, Noyes School of Rhythm and Katharine Hepburn Theater, Old Saybrook CT. A member of Lori Belilove's Isadora Duncan Dance Company from 2001-2005 and an international affiliate from 2005-2010, Julia is a 4th generation Duncan dancer primarily taught by Lori Belilove and Cherlyn Smith. Julia currently receives coaching in Duncan repertory from Barbara Kane, founder of the Isadora Duncan Dance Group, London/Paris. Julia is also a member of the Steering Committee of the Isadora Duncan International Symposium. She has taught a contemporary Duncan technique class Bernie Grant Arts Centre since 2013. From 2007-2009 she lived and worked at the Art Monastery Project where she helped develop the project's unique combination of contemplative practice and artistic work. Trained at the Boston Conservatory, Julia graduated magna cum laude in 2000 with a BFA in Dance.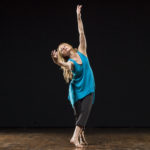 Jennifer Sprowl is a fourth generation Duncan Dancer and founding member of Lori Belilove & the Isadora Duncan Dance Company in New York City. Training directly with Duncan Dance luminaries Lori Belilove, Hortense Kooluris and Julia Levien, Sprowl's wide ranging dance credits include Rebecca Kelly Dance Company, Pennsylvania Ballet, Pennsylvania Dance Theater and Dayton Ballet Company. She has worked extensively with modern dance masters Bill Evans, Eleanor King, Bella Lewitzky and Hannah Kahn. Sprowl currently serves as faculty with the Joffrey Academy of Dance, Chicago and teaches classes dedicated to the preservation and extension of Isadora Duncan technique for the 21st century . A specialist in the field of pre/post rehabilitation for dancers, Sprowl is a graduate of the Ohashi Institute of Shiatsu, certified as an Active Isolated Stretch practitioner based on the work of Aaron Mattes, is a Certified Flexibility Technician and has extensive training in Gyrokensis, Yamuna Body Rolling and Power Pilates. Sprowl is regularly invited to present master classes and guest teach at prestigious universities and dance companies throughout the United States and internationally. Jennifer's innovative staging of the Duncan Dance repertoire in Chicago includes works for MOMENTA, The Chicago Academy for the Arts, and her own company, Duncan Dance Chicago. Her uplifting and motivating approach renders her classes and coaching in the Duncan technique a pure, authentic and powerful experience. www.duncandancechicago.com
Isadora Duncan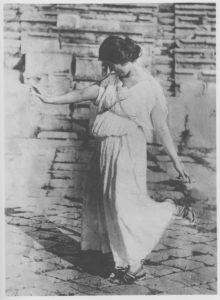 Famed for her bare feet, silk tunics, and free spirit, Isadora Duncan (1877-1927) revolutionized turn-of-the-twentieth century concert dance. A San Francisco native often hailed as the "Mother of Modern Dance," Duncan began teaching and performing at a young age. She traveled east, dancing in Chicago and New York, where she worked as a member of Augustine Daly's theatre company. Duncan's early solo concerts were in the context of high society salons, and she danced to both musical accompaniment and poetic recitations. By 1900, Duncan sought an audience for her art in Europe. In London, she began to create choreographies to Frederic Chopin's piano compositions, and in Paris she served a brief apprenticeship with Loie Fuller. In fact, Fuller organized a concert for Duncan that led to her first major contract with a theatre in Budapest, Hungary. Over the course of her nearly three-decades long career, Duncan toured extensively throughout Europe, Russia, the United States, and South America. Her work evolved during that time, with early choreographies expressing youthful joy and exuberance, symphonic works evoking Greek mythological stories and archetypes, and powerful dances featuring monumental and heroic themes in response to the First World War.
Duncan's influence was not limited to revolutionizing dance as an art form, she was an outspoken advocate for women's freedoms, including dress reform and education, founding her first school in Germany in 1904. Six of her original students, dubbed the "Isadorables" by a critic, performed with her and later passed on her technique and a repertory of nearly one hundred choreographies. Influenced by her observations of movement in nature, her studies of the work of Francois Delsarte, and her meditations on Greek and Renaissance art, Duncan identified the solar plexus as the initiatory center of all emotive and expressive movements and created a dance technique that develops the relationship between breath and gesture. This movement technique is expressive, integrating, and powerful, and as direct-lineage Duncan dancers, Duncan Dance Project members Meg Brooker, Valerie Durham, Julia Pond, and Jennifer Sprowl are actively working to preserve, pass on, and develop the Duncan dance legacy.
---