Screening of "Last Words" (seriousFilm, 2014) with an introduction by linguist-philogist Mark Janse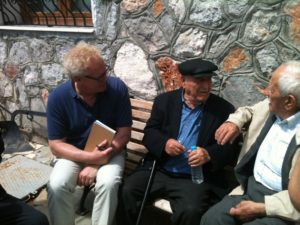 Friday, October 14, 2016
7-9pm in House A
Admission: Free and open to the public.
Directions and Visitor Information
Overview
The Cappadocian variety of Greek, spoken in Asia Minor until the population exchanges between Greek and Turkey in the 1920s, has been of considerable interest to Hellenists and linguists more generally because of the intense contact it underwent with Turkish and the effects that this contact had on the language. After the 1920s, the language was believed to be extinct, absorbed into the Greek communities of mainland Greece. Within the past ten years, however, enclaves of Cappadocian speakers have been discovered in Greece and Professor Mark Janse, who studied Cappadocian for years thinking it extinct, has been at the forefront of this discovery and the reemergence of Cappadocian. He will talk about his involvement with Cappadocian and the Cappadocians and then screen "Last Words", an award-winning documentary film about his discovery and about the language.
About the speaker
Mark Janse is BOF-ZAP Research Professor in Ancient & Asia Minor Greek at Ghent University. He is a former Visiting Fellow of the Onassis Foundation, All Souls College (Oxford) and Harvard's Center for Hellenic Studies, and a former Onassis Senior Visiting Scholar at Harvard, Princeton, Stanford and the University of Arizona. His research spans the history of the Greek language from Homer to the Modern Greek dialects, with particular attention to language variation and change, language contact and language death. He is well-known for his long-term study of Cappadocian on which he has published extensively. His personal involvement with its speakers has earned him the honorary title "Ambassador of the Cappadocians".
About "Last Words"
"Last Words" is a documentary short (29 minutes), directed by Koert Davidse and produced by seriousFilm. The film has been selected for screening at international film festivals in Paris (Ethnografilm 2015), Lanzarote (FICL 2015), Pärnu (International Documentary & Anthropology Film Festival 2015), Sofia (5th International Festival of Ethnographic Film 2015), Bristol (14th RAI International Festival of Ethnographic Film 2015), Denver, Colorado (Society for Visual Anthropology Film & Media Festival 2015), and Vlissingen (Film by the Sea 2015).
---