---
The Center for Hellenic Studies is deeply saddened by the loss of Gloria Ferrari Pinney, former Senior Fellow (2000-2006, and 2016-2021), Professor of Classical Archaeology and Art, Emerita at Harvard University.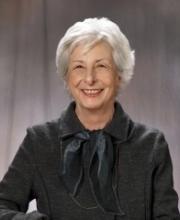 Gloria Ferrari Pinney was professor emerita of classical archaeology and art at Harvard University, where she taught from 1998 to 2003. She was previously a member of the faculty at Wilson College and at Bryn Mawr College, serving as the Doreen Canaday Spitzer Professor of Classical Studies from 1990 to 1993. In 1993 she moved to the University of Chicago.
She has written on Roman art and ancient Greek art and poetry. Her 2003 monograph, Figures of Speech: Men and Maidens in Ancient Greece was awarded the 2004 Wiseman Book Award by the Archaeological Institute of America. Her research dealt with visual and literary representations of geography and with the issue of continuities from the Aegean Bronze Age into the Iron Age. She was a member of the American Philosophical Society.
---