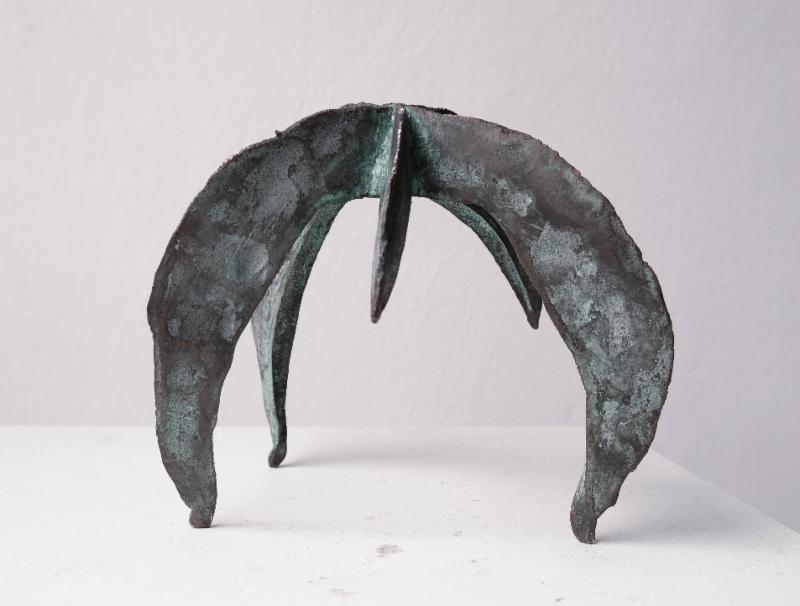 Presented by the Washington Sculptors Group and the Center for Hellenic Studies
May 27-October 15, 2016
Micro-Monuments showcases 32 small-scale sculptures which explore monuments as a universal idea in art. The exhibit features work by members of the Washington Sculptors Group of Washington, DC. First exhibited at the Salzland Museum in Saxony-Anhalt, Germany, the exhibit now returns to its city of origin.
Curator: Artemis Herber
Juror: Anne Reeve
Admission: Free
Visiting hours: Monday-Friday, 10am-12pm and 2pm-4pm
For groups larger than 4 persons, please call 202-745-4400 to make an appointment.
Directions and Visitor Information
Image: Tripod, sculpture and photograph by Felicia Glidden
Participating Artists
Julia Bloom, Greg Braun, Elsabe Dixon, Stephanie Firestone, Felicia Glidden, Carol B. Goldberg, Tom Greaves, Edel Gregan, Jonathan Guyer, Kelly Lorraine Hendrickson, Jin Lee, Leigh Maddox, Jaqueline Maggi, James Mallos, Kass McGowan, Elizabeth Miller McCue, Jim Paulsen, Tatyana Schremko, Mike Shaffer, Lynda Smith-Bugge, Garret Strang, Lawrence S. Watson, Fabiola Alvarez Yurcisin.
About the Exhibition
The small-scale sculptures created within a "micro" format convey a global perspective that is informed by either the artist's own personal background, or by experiences with other cultures and peoples, internationally or locally.
As an exhibition, "Micro-Monuments" comes together like a modern-day Cabinet of Curiosities; artworks are integrated in their diminutive scale, yet widely varied in material, color, and scope. What emerges is a richly textured experiment surrounding the intersections of nature, time, geology, and human expression: mysteries that pre-date, and will out-live, us all.

– Anne Reeve
First presented at the Salzland Museum in Saxony-Anhalt, Germany, the exhibition was originally motivated by excavations of a monumental Neolithic site in Schönbeck, Germany. The exhibition aims to reveal a deeper understanding of people's lives in prehistoric times, and to allow artists' interpretations on topics of the cosmos, nature, contemporary culture, and its world heritage, as well as past and future societies. Now, the exhibition is seen in the new context of the Center for Hellenic Studies in Washington, DC, the city of monuments and monumental architecture. The artworks and the concept of the exhibition itself have undergone a transformation.
About the Juror: Anne Reeve serves as assistant curator at the Glenstone Museum in Potomac, MD. Her writing has appeared in Art in America and Art Papers, and she is currently at work on a publication to accompany Glenstone's upcoming exhibition of works by late American artist Fred Sandback.
About the Curator: Artemis Herber was appointed as the curator for Transatlantic Cultural Projects Saxony-Anhalt to realize cross-cultural projects. She currently serves as the President of the Washington Sculptors Group.
Micro-Monuments is organized by Washington Sculptors Group, a non-profit organization founded in 1984 dedicated to promoting awareness of sculpture and fostering exchanges among sculptors, sculpture enthusiasts and the public.
---