Festival of the Muses
June 19-20, 2020
Schedule of Events | Garden of the Muses | Contributor Biographies
The Delphic Preview: Festival of the Muses celebrates contemporary re-imaginings of Greek culture as they pertain to the ancient and eternal tradition of the Festival of the Delphic Games. The online event invites the global community to engage with ancient Greek art, music, dance, poetry, song, myth, sport and theater in modern iterations through live-streamed performances and discussions, and through the Garden of the Muses, a collection of videos, audio recordings, and articles.
The Festival is presented by Harvard University's Center for Hellenic Studies in collaboration with the Isadora Duncan International Institute, the Ecumenical Delphic Union, and the Committee for the Reinstatement of the Delphic Games. Sponsors include MOISA: The International Society for the Study of Greek and Roman Music and its Cultural Heritage. The Festival is part of a larger, ongoing initiative to further modern reinstatements of the Festival of the Delphic Games, to be held next in Delphi, June 2021.
Special thanks to the following persons for their role in organizing the Festival: Natasha Bershadsky, Jeanne Bresciani, Iris Brosch, Rosemary Cooper, Nancy Felson, Bettina Joy de Guzman, Lia Hanhardt, Artemis Herber, Lanah Koelle, Zoie Lafis, Allie Marbry, Richard Martin, Laura Slatkin, and Noel Spencer.
A collection of creative expression inspired by ancient Greece, and reflections on the arts in antiquity and the Delphic spirit. Submssions are welcome and accepted on an ongoing basis. Contact muses@chs.harvard.edu for details.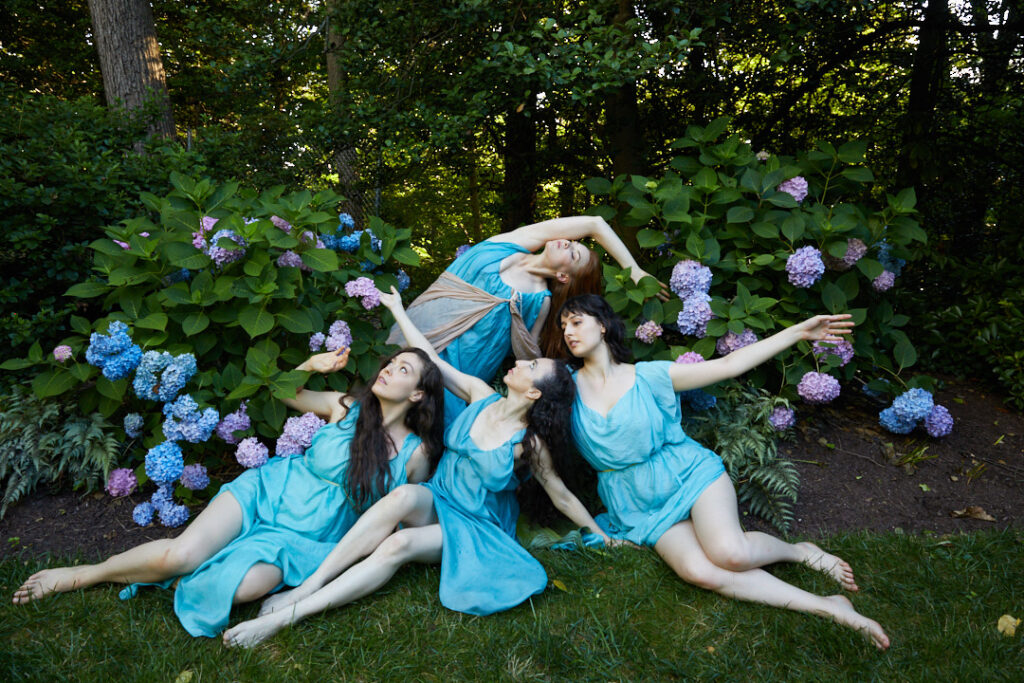 Dance
Andonia Cakouros, Unveiling the Soul (2020), (2015).
"Unveiling the Soul invites the audience to examine the core of the human spirit when every mask is shed." ~ Andonia Cakouros
In the introduction video the artist speaks about her own mental health. Following that are excerpts from the 2015 production of Unveiling the Soul. The artist is presently researching mental illness in Ancient Greece and is working on a performance piece from her own lived experience of melancholia and mania embraced by the Dionysian Spirit.
Mary DiSanto-Rose, "Polonaise Militaire" (excerpt) and "Harp Etude" (excerpt).
These dance fragments were performed by Mary DiSanto-Rose in original choreography by Isadora Duncan via reconstruction by Jeanne Bresciani of the Isadora Duncan International Institute and were video-recorded by Steve Nealey. Musical excerpts include Chopin's Polonaise in A major, Op. 40, no. 1, and Chopin's Étude in A flat major, Op. 25, no. 1.
They, and other Duncan and Duncan-inspired dances were presented in 2005 at Skidmore College's Isadora Duncan & the Muses Among Us within the outdoor amphitheater and colonnaded Greek-inspired grounds of the Surrey-Williamson Mansion. Building on the initial 21st-century Festival for the Reinstatement of the Delphic Games in Delphi under the auspices of the Honorable Panagiotis Kaltsis, the Delphic Ecumenical Union and the IDII in the spring of 2005, this program was organized jointly by the Classics Department, the Department of Dance and the IDII. These excerpts were part of a culminating event, framed by All-College Study Seminars on Seamus Heaney's The Burial at Thebes inspired by Sophocles' Antigone.
Barbara Kane and the Isadora Duncan Dance Group, "Tanagras" (2003).
The Isadora Duncan Dance Group perform "Tanagras" (Corelli "La Follia") at the Ota Kumin Plaza Theatre in Tokyo, Japan as part of the program 'Dance Integration' established by Pal Ballet School and colleagues. The performance took place on September 6, 2003. The dancers are Barbara Kane, Francoise Rageau, Annette Mouret, Annette Spector, Christine Grant. The musicians are Kyoko Koyama (piano) and Kyoko Koyama (flute).
The Orchesis Study Group of the Dora Stratou Theater, research presentation (PDF), "Aither: Dance and Logos," Aeschylus' Persians, and 2018 demonstration at the Linos – International Philosophical Forum.
The Orchesis Study Group examines the different aspects of a modern approach of the relationship between philosophy, dance and language, often grounded in a series of classical texts, such as the Platonic Dialogues, Cratylus, Timaeus, and more.
Michiyo Sato and the Isadora Duncan International Institute, Japan, "Aspects of Water to Chopin Nocturnes" (2002). Sections include "Eurynom: Pleasure of Water", "Iron Ring (Kanawa): Emotion of Water", "Okeanides: Healing of Water", "Memories of Water".
"Aspects of Water to Chopin Nocturnes" was performed in the Sphere Mex Tokyo. The work is inspired by Greek mythologies, blended with Isadora Duncan, Modern and Japanese Dances, in search of archetypal body language. It describes water's different states in Nature as well as water's psychological metaphors: Section 1 "Eurynom: Pleasure of Water" describes splashing water; Section 2 "Iron Ring (Kanawa): Emotion of Water" describes the whirlpool as turbulence of emotion; Section 3 "Okeanides: Healing of Water" describes the calm sea shore waves; Section 4 "Memories of Water" describes ocean waves swallowing all memories like a tsunami. Dancers include Michiyo Sato, Erica Goto, Akiko Okumura, Kayo Hayashi, Reiko Fujimura and Youichi Kimuro. Filmed by Shin Iribe.
Carrie Tron, "Angel Down" (2019).
The focus of Dance Nyaad since 1994 has been to uphold the philosophical ideals of Isadora Duncan in addition to creating new choreography in her style that reflects the current culture. "Angel Down" is a piece that highlights the agonistic nature of societal trauma.
Christopher Williams, "Jason" (2015).
The mythic hero Jason consulted the Delphic Oracle to receive advice and information about his quest to acquire the Golden Fleece. The work, made specifically for dancer Jason Collins and inspired by the persona of Jason in the "Argonautica" of Apollonius Rhodius, is set to the aria "Delitie e contenti" from Act I, Scene II of Francesco Cavalli's "Giasone" and plays on themes of the feminized hero popularized by castrato roles in 17th century Italian opera.
Cythnia Word and the Word Dance Theater, "Revolutionary Etude" (2020).
Isadora Ducan's masterpiece "Revolutionary Etude" is excerpted from an evening length production by Word Dance Theater titled MOVE! Women's Rights from ISADORA DUNCAN to NOW, which premiered at the John F. Kennedy Center on March 4, 2020. Through weaving Isadora Duncan's historical dances from the suffragist period with contemporary dances created by Duncan dancer and choreographer, Cynthia Word, the dancers, singers, and actors of Word Dance Theater journey through time to explore the historic Suffragist movement and how it inspires us in 2020 to seek greater civic engagement and equity for all populations and particularly women. The Voices of Change Ensemble sing songs of suffragists then and now, and theatrical scenes, created from historical and contemporary writings of the women's movement, tell the stories of what has changed and what has not. Dancers include Ingrid Zimmer, Jenifer Golden, Vanessa Carmichael, Rebecca Lallande, and Chartamia Turner. The pianist is Carlo Cesar Rodriguez.
Music
Rob Castell and Paul O'Mahony, four songs from Delphi the Musical.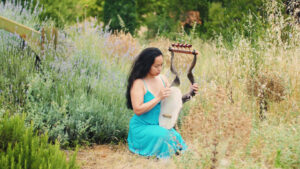 The scene is Delphi, the home of Apollo's famous oracle. People travel from across the world to consult the god, and every four years even larger numbers arrive to enjoy the Pythian Games. Delphi the Musical tells the story of this meeting of mortals and immortals – where love, death and competition are ever present. Delphi the Musical is currently in development – we have 18 original songs completed and dramaturgical work is continuing on the book. Four songs are available on this soundcloud link – click on the song titles for a brief description. For more information about our plans please email: outofchaosplays@gmail.com
John Franklin and Glynnis Fawkes, "The Mountain Mother": Second Stasimon from Euripides' Helen.
The video features new ancient music by John Franklin and drawings by Glynnis Fawkes. The metrical translation (PDF) is by Mark Usher and John Franklin, after the metrical analysis by William Allan. Performers include Julia Irons (voice), Jamie Levis (frame drums), and John Franklin (lyres). For more information on the music and original theatrical production, see Didaskalia, The Journal for Ancient Performance.
Andrew Earle Simpson, "What the Oracle Said: Apollo's Priestess at Delphi" (2020).
The Temple of Apollo at Delphi housed a priestess, also called the "Pythia," who communicated prophecies of Apollo to inquirers around the ancient world. Kings, merchants, and peasants all came to Delphi to ask the oracle for guidance on all matters of life, great and small. This video highlights ten prophecies reported by the oracle, spoken in Greek with English translation, with images of the Delphi site (temple, theater, stadium), accompanied by Andrew Earle Simpson's original music.
Nikos Xanthoulis, concerto for lyre and Orchestra in Poland, Helen by Euripides at Athens – Epidaurus Festival, Oedipus Rex by Sophocles in Vladivostok.
A selection of work with the lyre and incidental music for ancient Greek tragedies, composed by Nikos Xanthoulis.
Poetry
Agathi Dimitrouka, "Myrtle Leaves."
The video is available in Modern Greek, and available with English subtitles. Accompanying lyrics in Modern Greek (PDF) and translated into English (PDF).
The video entitled Myrtle Leaves presents in Modern Greek four poems inspired from Greek Mythology, three based on Erotic Epigrams of The Greek Anthology and one on a Sapho's poem from two books, all in verse to be sang, and two unpublished poems inspired from ancient Greek statues.
Christos Evangeliou, "Parnassus: Delphic Hymn" (PDF).
A poem in decapentasyllavic meter, in three sections: topography, hymnology, and nostalgia.
Phoebe Giannisi, "Tettix" (2012).
TETTIX (ΤΕΤΤΙΞ), the ancient Greek word for cicada, is the title of the performance video-poem, inspired by the association of the figure of the poet and the singing cicada as it appears through ancient Greek mythology, philosophy and poetry. More specifically: «τέττιγος ἐδράξω πτεροῦ» (a cicada caught by the wing) (Archilochus 223 West) and Plato's Platonic dialogue Phaedrus.
Kevin McGrath, "The Shield of Achilles" (PDF).
"The Shield of Achilles" is a micronarrative in Scroll Eighteen of the Homeric Iliad. In this, there are two communities described; one practices violence as a social media, the other is engaged in various other forms of social equilibrium.
Manuela Pellegrino, "Ce àrtena" (2020).
Subtitled in English and Modern Greek, with accompanying essay "Language as Sounds and Images: The Materiality of Griko".
Ce àrtena ("And now") features three poems in Salentine-Greek—or simply Griko—the language of Greek origins spoken in the Southern Italian province of Lecce, in Grecìa Salentina (Puglia). The poems are accompanied by photographs taken by Daniele Coricciati—who curated the video—and by instrumental compositions written and played by Palmiro Durante. The aim of the video is to share the sounds and images of Griko and to show how its materiality continues to generate paths to its future.
Visual Arts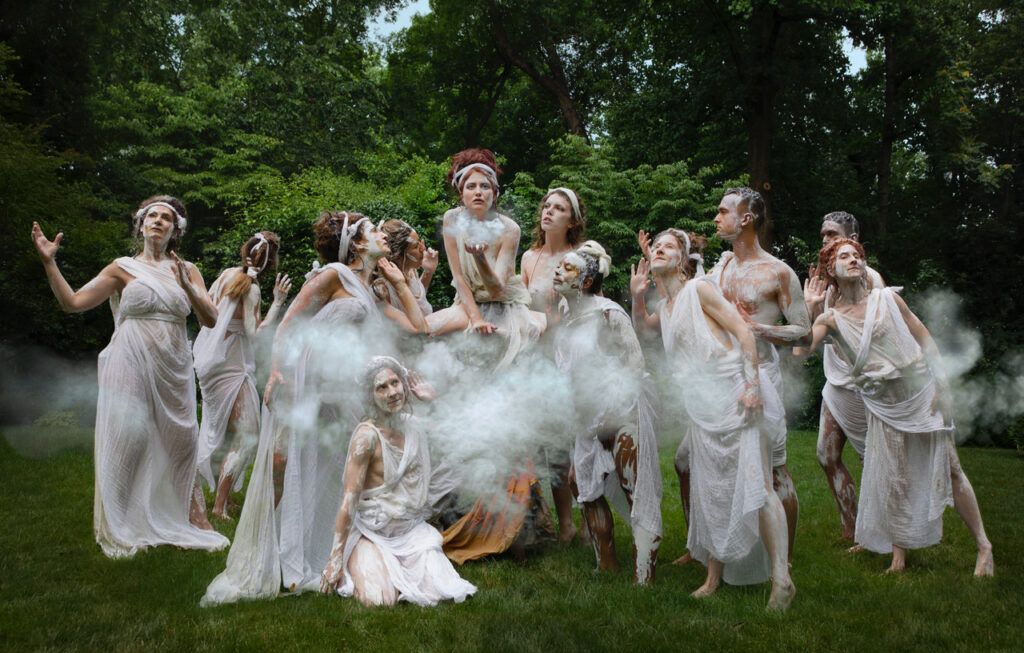 William Adair, Artist Statement (PDF).
Wolfgang Brenner, Artist Statement (PDF) and "Musen."
Iris Brosch, Artist Statement (PDF), "Documenting the INSIDE GAIA Project", and "INSIDE GAIA from Venice to Washington."
Donovan and Chris Murray, Final Highlights from SapphoFest 2010 and SapphoFest 2015.
Glynnis Fawkes and John Franklin, "The Mountain Mother": Second Stasimon from Euripides' Helen. (For more detail, see the Music section above.)
Anna Gillespie, Artist Statement (PDF), "Body Mapping" and "Twig Drawing."
Laurence Guillez, Paintings (PDF).
Artemis Herber, Artist Statement (PDF) and "The Gaia Cycle."
Judith Pratt, Artist Statement (PDF).
Marc Robarge, Artist Statement (PDF).
Research
Lucia Athanassaki, "A Magnificent Birthday Party in an Artful Pavilion: Lifestyle and Leadership in Euripides' Ion (on and off stage)."
This paper explores Ion's portrayal as the future leader of Athens and progenitor of the Ionians, focusing on his status in Delphi and the ways in which his upbringing in the Panhellenic sanctuary is shown to have influenced his outlook and his lifestyle.
Angela Cinalli, "Performing Delphi. A glance over the Pythia through its Editions and Artists" (PDF).
In this video presentation, we cast an eye over Delphi and its performative life, focusing on the Pythian festival, spanning from modern reinstatements back to ancient editions. As for ancient times, we will go over the Hellenistic period when the cultural phenomenon of the "poeti vaganti"—itinerant performers dwelling in Delphi to offer their art at agonistic and extra-agonistic occasions—deeply influenced the cultural panorama of Delphi and also impacted the Pythian scenario.
James Henderson Collins, "Dancing the Virtues, Becoming Virtuous: Procedural Memory and Ethical Presence" in The Enigmatic Context: Approaches to Greek Drama: A special volume of Ramus: Critical Studies in Greek and Roman Literature.
Recent work on the neuro-cognition of dance can be used to explore the somatic 'virtues' of choral dance in ancient drama. While the first professional philosophers theorize the moral effects of music, I explore instead the ways in which traditional political virtues may be enacted and routinized through choral performance. Practicing the movements and songs of choral odes can give rise to the very virtues about which the chorus sings.
Samuel N. Dorf, "Eva Palmer-Sikelianos Dances Aeschylus: The Politics of Historical Reenactment When Staging the Rites of the Past" in Choros: International Dance Journal.
This short essay compares dance and historical reconstruction in the choreography of Eva Palmer Sikelianos' work for the Delphic Festival and Vaslav Nijinsky's Le Sacre du Printemps.
Carolyn M. Laferrière, "Painting with Music: Visualizing Harmonia in Late Archaic Representations of Apollo Kitharōidos" in Greek and Roman Musical Studies.
When Apollo is depicted playing his lyre, the representation of his active musical performance suggests a sonic element in the viewer's perception of the image. In this paper, I examine how Apollo's music and its effect upon his audience are communicated in late Archaic Athenian vase-painting. The images suggest that the sounds of the god's music draw the composition together into a musical harmonia, thereby continually reaffirming the unifying character inherent to Apollo's music.
Richard Martin, "Outer Limits, Choral Space" in Visualizing the Tragic:
Drama, Myth, and Ritual in Greek Art and Literature. Essays in honour of Froma Zeitlin.
Dithyramb, cult songs dedicated to Dionysos, influenced the evolution of tragedy. On the basis of an early monument to dithyrambic victory, the paper analyzes a particular way of conceptualizing choral space, evident still in metapoetic form on stone and in script.
Domenico Giuseppe Muscianisi, "The Circle of Fame: Apollo, the Corps de Ballet and the Song of the Muses at Delphi" in Classical Inquiries.
The article discusses the Homeric Hymn to Apollo to Balanchine's ballet Apollo, through Indo-European poetics and Performance Studies. In Homeric Hymn to (Pythian) Apollo 182–206, some deities enact the roles of themselves in the song-and-dance of Apollo and the Muses: The image of circle is essential for the description of the performative hierarchy and for the celebration of the fame of Apollo and the Muses ("wheel of the sun") that mirrors the prime role for humankind of the Oracle of Delphi.
Gregory Nagy, "The Library as a garden of the Muses" in Classical Inquiries.
In the Candide of Voltaire, first published in 1759, the last words famously read: mais il faut cultiver notre jardin 'but we must cultivate our garden'. Following such a mandate, I return here to cultivate a garden of my own delights—the idea of the ancient Library of Alexandria as a garden of the Muses. The occasion for my return is a feast day of sorts, a Festival of the Muses, celebrated in June 2020 at the Center for Hellenic Studies in its own lush garden, virtual as well as real.
Emma Pauly, "An Adornment for the God: Re-Centering the Queer Body of Dionysus in Euripides' Bacchae" (PDF).
The essay argues for a queer (specifically non-binary/GNC) reading and implementation of Euripides' Bacchae, particularly the textual and metatextual focus on the queer body of the god Dionysus (and the influence that reading brings to bear on casting the character). Originally presented at a performance theory conference.
Anastasia-Erasmia Peponi, "Dance and Aesthetic Perception" in Blackwell Companion to Ancient Aesthetics.
The article explores aesthetic discourse on dance and the experience of dance in the ancient world.
Sylvain Perrot, "Reperforming, Reenacting or Rearranging Ancient Greek Scores? The Example of the First Delphic Hymn to Apollo" (PDF).
This small review, if not exhaustive, shows the main goals of people performing ancient Greek music. From the beginnings, science, politics and aesthetics are strongly linked. By writing this history of performances, we realize that the border may be porous between science and performing arts.
Rachele Pierini, "New Voices for Ancient Songs: A Survey of Ancient Greek Motifs in Today's Opera and Music" (PDF).
The paper is a fresh examination of the deep intersections connecting ancient Greek motifs and opera – notably, the first opera was an attempt to revive the classical Greek drama. In a friendly yet informative fashion, it combines the analysis of a selection of key linguistic and musical elements with some of the most touching opera arias.
Christoph Quarch, "A New Narrative for the 21st Century. Inspiring the World by the Delphic Spirit of Humanity" (PDF), audio, and video.
To meet the global challenges of the 21st century, humanity needs a common narrative. The spirit of Delphi, which 3000 years ago inspired ancient Greek culture, is particularly suitable for this. In his lecture, the philosopher Christoph Quarch sketches a concise picture of the Delphic spirit through ten central signatures and explains why we require it for a truly humane future.
Heather L. Reid, "What Does Sport Have to Do with Art (and Education)?" (PDF).
The paper discusses the educational link between athletics and aesthetics in the ancient world typified by the Pythian festival at Delphi.
Jeffrey O. Segrave, "The Pythian Games: The Real Modern Olympic Games" (PDF).
The paper makes the case that while the ancient Olympic Games served as the primary model for the modern Olympic Games, the Pythian Games, in fact, represented a model much more in keeping with the aspirations of the modern Olympic Games founder, the French aristocrat, Pierre de Coubertin, who aspired to include both athletic and arts competition in his new brand of the Olympism.
Michael Scott, Delphi: A History of the Center of the Ancient World.
Published in 2014 by Princeton Univeristy Press, Delphi is a comprehensive narrative history of the ancient world's center, from its founding to its modern rediscovery.
Laura Slatkin, "Notes on Tragic Visualizing in the Iliad" in Visualizing the Tragic:
Drama, Myth, and Ritual in Greek Art and Literature. Essays in honour of Froma Zeitlin.
The Iliad is a poem of shocking visions. It dwells on the impact of the sights that confront its characters and on the act of seeing itself. An examination of the characters' lines of vision, in the various directions they take, may offer additional perspectives on the Iliad's stringent and subtle intimations of tragedy.
Tyler Jo Smith, "Religious Dimensions of Dance on Ancient Greek Vases."
This illustrated lecture explores the relationship of dance, religion, and Greek vases. It begins by introducing Greek vases are used as art historical and archaeological evidence, and then considers how both dance and religion are identified in Archaic and Classical vase-painting through specific iconographic details (e.g. gestures, dress, setting). The relationship between decoration, shape, and find-spot is also demonstrated using examples of 'ritual' vessels from Athens and Boeotia. The lecture concludes with a few dancing figures on vases discovered at the site of Delphi itself.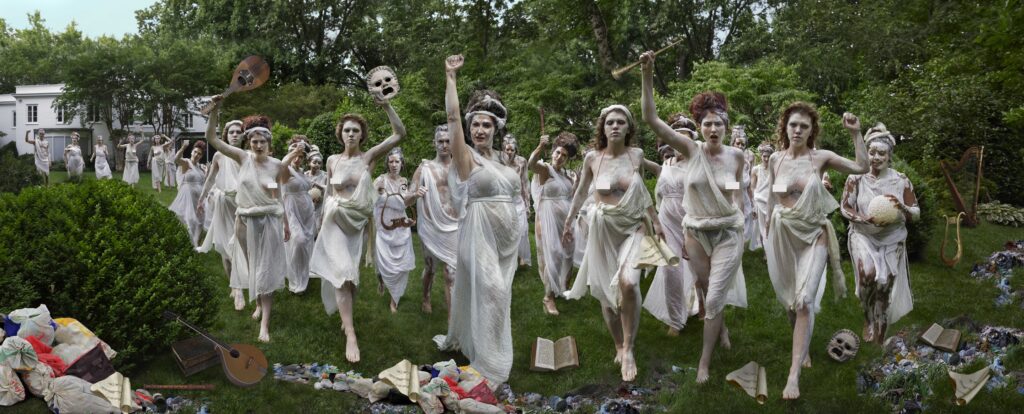 William Adair is recognized for his work as a conservator and historian of picture frames. In the early 1970s, he began working at the Smithsonian's National Portrait Gallery, where he became a museum specialist focusing on gilding, frame history, and the connections between fine art and traditional decorative arts. He founded Gold Leaf Studios in 1982 in Washington, DC, where he built his renowned career as a frame maker and gilder. Adair leads workshops, lectures, and organizes exhibitions about frame history, frame making, and gilding. Adair's artwork is in numerous collections, including the Smithsonian American Art Museum. In 1991, he received the Rome Prize in design from the American Academy in Rome. In 2011, Montgomery College hosted a retrospective exhibition of his career as an artist and frame maker. He is represented by Govinda Gallery in Washington, DC.
Lucia Athanassaki is Professor of Classical Philology at the University of Crete. She holds a BA from the University of Athens and a PhD from Brown University. She has published extensively on melic poetry, its artistic context and its ideological and political agenda. The focus of her research in recent years is on attitudes to art, lifestyle and leadership in the late 5th century as reflected in Attica drama and prose (list of publications at http://philology.uoc.gr/en/staff/lucia-athanassaki).
Natasha Bershadsky explores interactions of history, myth and ritual in her research; she is riveted by connections between ancient and modern poetic traditions. She is a lecturer on the Classics at Harvard University and a Fellow in Poetry and in Ancient Greek History at the Center for Hellenic Studies, where she co-edits Magnetic Links, a poetry project at Classical Inquiries.
Wolfgang Brenner draws, takes photos, writes, paints, leaves marks, mounts, arranges, finds material, leaves traces. He experiments, but still follows traditional aesthetic styles and thus sketches out his own artistic language. In his art, he materializes his perception of this world as well as of his own surreal imagination. Those works contain all sorts of contradictions: the realistic as well as the poetic, the earnest and the cheerful, philosophic and ordinary, the transient and the seemingly timeless, meaningful as well as banal things. Exploring the works of Wolfgang Brenner means to start an aesthetic journey, it means to experiment with thoughts and imaginary pictures, to try out interpretations as well as just leave uninterpretable things stand as they are.
Jeanne Bresciani, M.A., Kress Fellow in Art History, Williams-Clark, M.A.; Fulbright Scholar in Dance, NYU; I.M.A. in Archetypal Psychology/Laban Studies; Ph.D, "Myth and Image in the Dance of Isadora Duncan," NYU; hailed as "the foremost interpreter of Duncan's dance," "the divine in motion" and "the keeper of the Duncan flame," is recognized internationally as a solo artist, choreographer, educator and scholar. She is the main protégée of Maria Theresa Duncan, adopted daughter of Isadora Duncan, and serves as Artistic Director for the Isadora Duncan International Institute, Inc. (IDII), founded by Maria-Theresa Duncan, 'the last dancing Isadorable' and Kay Bardsley in 1977.
Based in the artistic, choreographic and theatrical realms of the Muses and their legacy to museums, Bresciani builds upon Duncan's unique contribution of forging choreographic masterpieces for the "merging of the arts," based on great periods and masterworks of art and ideas from the classical to modern. Its results are 'choreo-syntheses' of music and dance, honoring both the ancient and eternal, often with site-specificity, in a modernly eclectic yet vividly refined way. Her influence includes the development as Faculty at New York University of the first accredited Duncan training and travel programs in the world, followed by programs in Asia and Europe, realigning Duncan Studies as a classical education on a par with the great traditions and festivals of the West in performance and workshop realizations at ancient sites as those in Greece, for which purpose she serves as the Founding Chair of The Festival for the Reinstatement of the Delphic Games in conjunction with the Delphic Ecumenical Union since 2004 and now gratefully with Zoie Lafis, Gregory Nagy and Friends of the CHS. Jeanne is recipient of awards including The "Tenth Muse" Golden Award 2016 granted by the Honorable Panagiotis J. Kaltsis and the Universal Delphic Union and has represented the U.S.A. for the Seoul Olympics in 1988 and periodically for the Japanese Olympic Committee in Tokyo.
Iris Brosch finds her inspiration in classic literature and music. Ancient myths in poetry and visual arts and their adaptations come to a constructed meaning in the framework of "Tableaux Vivants." Inspired by historical paintings, the viewer is immediately drawn into a riveting narrative or genuinely intriguing images with references to literature, art, and history that she weaves into her feminist concept. Iris creates colorful, opulent, and masterful settings with picturesque backdrops of Venice and other historical places. She understands the body as a tool to not be afraid of promoting freedom of love, Eros, and beauty through a feminist perspective in staging scenes inspired by Greek mythology and literature that revitalize and break up dichotomies between body and mind.
Andonia Cakouros is Professor Emeritus of Theatre having retired after 38 years of teaching at California State University, Sacramento. During her tenure as professor she taught acting at all levels, oral expression of literature, movement, opera workshops and theatre classes for education majors. Andonia also developed a course in Drama Therapy for the Professional School of Psychology. She was granted a PhD equivalency from CSUS in Acting and received her MA form Northwestern University in Theatre. Delivering scholarly papers and performing at national and international conferences, her writing has been published in several languages. Andonia served on the Board of Hellenic Studies program at CSUS for many years. As an actress some of her favorite roles include Agave from The Bacchae (under the direction of the renowned director Takis Muzenidis of the National Theater of Greece), Jocasta in Ted Hughe's adaptation of Seneca's Oedipus and Eleni Kazantzakis in Man of Crete. Andonia has had the pleasure of performing in Latvia, Poland, the Curium Theatre of Cyprus, Delphi and Athens, as well as New York, San Francisco, Chicago and Sacramento. A fan of original work she has directed several premiere productions including her own performance-piece, Greece the Soul: An Evening of Poetry, Dance, Art and Music. In May 2015 she created and presented Unveiling the Soul, a dramatic work that is an artistic performance of Hellenic texts, dance, poetry, music and Andonia's own personal writings. She has since adapted Unveiling the Soul into a one woman show and presented it in 2018 and 2019. The passion she has for Greek Theatre is profound. As an actress, choreographer, director and writer, Andonia has explored the complex and liberating processes that drama brings as its gift. She believes theatre to be a healing art — sacred and potent.
Rob Castell is a songwriter and musician. He collaborates frequently with Paul O'Mahony (Unmythable, Norsesome, Delphi), has written family musicals for the Nuffield Theatre, York Theatre Royal and was resident songwriter for the BAFTA-nominated CBBC show Officially Amazing. He was previously a company director and musical director of Barbershopera Productions, a multi award-winning a cappella comedy group. He is finally learning how to speak Greek.
Angela Cinalli (Ph.D. in History and Philology of the Ancient World, "La Sapienza" University of Rome) is a Marie Skłodowska-Curie Researcher (MSCA-IF-GF) at the University "La Sapienza" of Rome and at the Center for Hellenic Studies, Harvard University. Her research interests lie within the intersection of Greek epigraphy and literature. She carries out a project on the itinerant intellectuals and musicians as attested in epigraphic sources of the Hellenistic Period (the so-called poeti vaganti) and with the IT Staff of CHS she is developing a digital outcome of her research. She is author of "Τὰ ξένια. La Cerimonia di Ospitalità Cittadina" (PDF) and of contributions on various aspects of the Poeti Vaganti research, beyond other publications on Cyrenaican epigraphy. More information about her research is available on Academia.edu.
James Henderson Collins II is Fellow in Ancient Greek Literature and Philosophy at the Center for Hellenic Studies and Senior Lecturer in the Department of Classics and Ancient History at the University of Sydney. He uses a variety of literary, philosophical, sociological, and neuroscientific approaches to study the pragmatics of intellectual life in antiquity, with a principal focus on philosophical recruitment and ancient education, including choral training and performance. He is director of the interdisciplinary 'Performing Wisdom' program, which develops strategies for introducing people of all backgrounds and ages to philosophy as an active–often public–discipline through dramatic and rhetorical training and performance. His publications include Exhortations to Philosophy: The Protreptics of Plato, Isocrates, and Aristotle (Oxford University Press, 2015).
Rosemary Cooper, I.D.M.A., Adv. Dipl. ID Studies, Assistant Director, Isadora Duncan International Institute Dancers, is a 3rd generation Duncan dancer from childhood under the sole tutelage of Jeanne Bresicani. In the legacy of the IDII, Rosemary has focused on cultivating "the highest intelligence in the freest body," merging the artistic, physical, intellectual and soulful in all realms. She has performed upon stages such as the Symphony Space, Glasgow Royal Concert Hall, World Financial Center, the United Nations, San Marco Square, Palazzo Pisani at Stra, Palazzo Contarini-Polignac, the Gritti Palace and Palazzo Pisani Moretta. Additionally, she is a teaching certified, World-level championship Irish dancer and musician, performing internationally.
Armand D'Angour teaches the classics at Oxford University, and lectures on Greek music and metre among other topics. His latest book, Socrates in Love, is an investigation of the biography of Socrates. He has been researching ancient Greek music for over 20 years, and in 2016 showed how the earliest musical documents which feature microtonal intervals may be interpreted as conforming to the tonal tradition of later Greek (and Western) music.
Agathi Dimitrouka (born in Mesolonghi) lives in Athens working as lyricist, writer and translator from Spanish; she is heiress of the poet Nicos Gatsos and edits his work. See: https://classical-inquiries.chs.harvard.edu/tag/agathi-dimitrouka/
Mary DiSanto-Rose is an Associate Professor of Dance, Emerita at Skidmore College. She earned her M.Ed. and Ed.D. in dance from Temple University. She was Director of the Dance Program from 1990-2005 and Chair of the newly formed Dance Department from 2005-2009 and just retired June 2020. She specializes in reconstructing classic modern dance works of the early 20th century. She was a partner with the IDII Pre-Olympic Dance Tour in 2004, the "Festival for the Reinstatement of the Delphic Games" in 2005, and the "Apollo and the Muses Sacred Topographies" tour within archaeological sanctuaries in 2009 – all on Greek terrain. She has co-produced with Jeanne Bresciani, Artistic Director of IDII performances at the Kaatsbaan International Dance Center in Tivoli, NY; and on tour in Greece, France and Italy. Dr. DiSanto-Rose was the recipient of an honorary degree "Doctor of Arts" in 2012 from St. Lawrence University; the "Innovative Leadership in Dance Education & Legacy" from the American Dance Legacy Institute at Brown University in 2008; the "Exceptional Service and Scholarship" from the National Dance Association in 2007; and the "Honorary Certificate in Isadora Duncan Studies" from IDII in 2005.
Donovan is a prolific songwriter, poet and musician who is recognized as one of the most popular and innovative recording artists of our time. By incorporating elements of folk, jazz, classical, Caribbean and Indian music, he became one of the central figures in the extraordinary musical and cultural revolution of the 1960s. He continues to influence and inspire musical artists today. Donovan's recordings have received universal acclaim and he continues to perform throughout the world. His autobiography, Donovan: The Hurdy Gurdy Man was published in 2005.
Samuel N. Dorf is Associate Professor of Music at the University of Dayton. A musicologist and dance historian, his monograph, Performing Antiquity: Ancient Greek Music and Dance from Paris to Delphi, 1890-1935 (Oxford University Press, 2019) examines the performance and reinvention of ancient Greek music and dance in fin-de-siècle Paris, and queer music reception. His new project explores the ways scholars and performers imagine ancient music and dance today. You can follow him at www.samueldorf.com and @sndorf.
Helen Eastman works internationally as a writer and director of theatre, opera and film. She has a doctorate in Classics, and ran the Onassis commissioning programme at Oxford University from 2005-2010, was guest director of the Cambridge Greek play from 2010-2016 and co-founded Barefaced Greek with Mairin O'Hagan. She founded the Live Canon ensemble and poetry press.
Christos C. Evangeliou is a native of Greece and Emeritus Professor of Philosophy at Towson University, Maryland, USA, where he has been since 1986. He studied the Classics and Philosophy at the University of Athens, Greece, and at Emory University from where he received his Ph.D. He is the author of numerous scholarly papers; ten volumes of poetry (in Greek and English); and of four scholarly books: Aristotle's Theory of Categories and Porphyry; The Genesis of Philosophy; Themata Politica: Hellenic and Euro-Atlantic; and Hellenic Philosophy: Origin and Character. The first and the last of these books are in their second editions.
Glynnis Fawkes is a cartoonist and illustrator living in Burlington, Vermont, and faculty member at the venerable Center for Cartoon Studies in White River Junction. She has worked as an illustrator for excavations in Greece, Crete, Turkey, Israel, Cyprus, Syria, and Lebanon. Her most recent book is Charlotte Bronte Before Jane Eyre, Center for Cartoon Studies Presents series, published in September 2019 by Disney/Hyperion. Her Greek Diary, about working on a dig and traveling with children, won the Society of Illustrators MoCCA Arts Festival Award in 2017. Other drawings were nominated for an Ignatz Award at the Small Press Expo in 2016. Alle Ego, about her first trip to Greece and how it launched her work in archaeology, won the Society of Illustrators MoCCA Arts Festival Award in 2016. Glynnis has been a resident at La Maison des Auteurs in Angoulême in 2015 and 2018. She is currently working on a middle grade adventure set after the eruption of Thera in Late Bronze Age Greece, supported by a Vermont Arts Council Grant in (2019) and The School of the Museum of Fine Arts Traveling Fellowship (2020).
Nancy Felson is Professor Emerita of Classics at the University of Georgia, where she taught for over 30 years. She is the author of Regarding Penelope: From Character to Poetics, guest editor of two special issues of Arethusa ("Semiotics and Classical Studies" and "The Poetics of Deixis in Alcman, Pindar, and Other Lyric"), co-editor of Contextualizing Classics, and author of many articles on Greek epic, hymnic, and lyric poetry. Pindar's victory odes have captivated her since earning her doctorate (long ago) at Columbia University. A hallmark of her work is the use of modern tools to tease out contemporary meanings from ancient texts, while engaging in close, respectful readings of those texts. She is (since high school days) an activist in several communities and movements, an ardent and committed advocate of social justice.
John Franklin is Professor and Chair of Classics at The University of Vermont. He began life in music composition and electronica at the New England Conservatory (1988) before switching to Classics for a PhD from University College London (2002). The cultural history of ancient music technology, both physical and conceptual, is has been central to his research, much of which has focused on the interface between early Greece and the Near East (culminating recently in Kinyras: The Divine Lyre, Center for Hellenic Studies/Harvard University Press, 2016). He has composed "new ancient music" for productions of Aeschylus Libation Bearers (London Festival of Greek Drama 1999), Aristophanes Clouds (Edinburgh Fringe, 2000), and Euripides Helen (Burlington VT, 2018).
Phoebe Giannisi, born in Athens, is the author of seven books of poetry, including Ομηρικά, (Athens, 2009), published in German (Homerika, translated by Dirk Uwe Hansen, Reinecke und Voss, 2016) and in English (Homerica, translated by Brian Sneeden, World Poetry Books, 2017, acclaimed by Anne Carson as one of the best books of the year). Her last books is Χίμαιρα (Chimera, Athens, 2019). An architect, Phoebe Giannisi holds a PhD in Classics (Lyon II-Lumière), published as Récits des Voies. Chant et Cheminement en Grèce archaïque, (Grenoble: 2008). Her work transverses the borders between poetry and performance, installation and representation, investigating the poetics of voice, body and place. She is a professor at the University of Thessaly, Greece. For more information,visit her website.
Reginald Gibbons co-translated, with Charles Segal, Bakkhai and Antigone (Oxford Univeristy Press). He has also published Sophocles: Selected Poems: Odes and Fragments (PrincetonUniveristy Press). The author of ten books of poems and other works, he is a Frances Hooper Professor of Arts and Humanities at Northwestern University.
Anna Gillespie has work in the collections of The Prudential, Burghley House Sculpture Park, The Somerset Museum, Museo Arte Contemporanea Sicilia, Bodrum Sculpture Park in Turkey and also in private collections throughout America, the Middle East and Europe.
Laurence Guillez is a French national living in London, UK. By profession she has taught French in Adult Education all her life and is a qualified dyslexia tutor. She has been dancing Isadora Duncan Dance for the last 5 years with Barbara Kane (IDDG London-Paris). Although she started very late without any prior experience of dance or gymnastic, she enjoys it very much. She also has been painting for the last 15 years. She is mainly self-taught although has followed part-time courses. In particular, so as to improve drawing skills she attends life drawing classes. Dance has brought movement and inspiration to her art. She mainly does watercolour now. She also has been doing etching for the last 2 years. Other mediums she has used are oil on canvas and ink. She enjoys discovering and using new techniques such as fused glass or those of old masters. She often works from her own photographs as a starting point. Other artists works of art are another source of inspiration, for instance she has undergone a project on Thomas Jones and copied two of his paintings in a free fashion.
Bettina Joy de Guzman is a multi-instrumentalist, educator, and Classicist who composes music inspired by ancient cultures from around the world, especially Ancient Greek music and poetry. She performs and lectures in various universities and museums, internationally. As Regent's Fellow at the University of California in Irvine, she taught Ancient Greek and Roman history as well as mythology. A book she edited, Αρχαία Ελληνική Λύρα, Μέθοδος Εκμάθησης (Ancient Greek Lyre: Learning Method) by Nikos Xanthoulis, was shortlisted for Ευ Ζην (Good Life) category for Greek Public Book Awards in June 2019. As President of the California Classical Association South, she organizes panels twice a year. For further information about albums, interviews, and upcoming events: www.bettinajoydeguzman.com.
German-born artist, Artemis Herber has exhibited her work throughout the USA, Germany, UK, Italy, Portugal and Spain. Highlights include Munich Airport, Albright-Knox Art Gallery, San Jose Museum of Art, Cheltenham Museum and most recently the American University Museum of the Katzen Art Center. Herber is an award-winning artist in both mediums of sculpture and painting. Being of Greek heritage she developed concepts on how humans live in shared spheres towards current conditions on Earth and 'Gaia Rise' in the context of polit-myth. As curator for Transatlantic Cultural Projects she engages in International Cultural Relations and exhibitions.
Canadian solo dance artist Kathleen Hiley has had the honour of performing the masterworks of many esteemed and award-winning choreographers including venerated dance pioneer Isadora Duncan, Jeanne Bresciani, Stephanie Ballard, Patricia Beatty, Rachel Browne, Margie Gillis, Gaile Petursson-Hiley and Peter Quanz. She has had the opportunity to perform with the Isadora Duncan International Institute throughout Italy, Poland, Greece, Canada and the United States. Kathleen has been a featured artist with The Isadora Duncan International Institute, The Margie Gillis Dance Foundation, Winnipeg's Contemporary Dancers, Q Dance, Toronto Heritage Dance, Mouvement Winnipeg Dance Projects, and Stephanie Ballard and Dancers. She graduated from the School of Contemporary Dancers Professional Program in affiliation with the University of Winnipeg with a BA Honours in Dance, a BA in Psychology and received the Gold Medal in Theatre and Film. For more information, visit her website or follow her on Instagram @katheleenhiley.
Isadora Duncan International Institute is a 501(c)(3) non-profit educational organization committed to the enhancement of education through movement and the arts, drawing from the ideals and principles of Isadora Duncan. Founded in 1977 by Maria-Theresa Duncan (Isadora's adopted daughter) and Kay Bardsley, the IDII continues Isadora's legacy through its educational programs for children and adults, performances around the globe and preservation of historic and unique archival material. Epitomizing Duncan's mission, its dancers have been hailed by the press as the following, "Duncan still enchants today… as these dancers … transfixed. Not only did they carry off Duncan's original works with purity, they were transformed. So too was the audience…" IDII projects have been funded by the National Endowment for the Arts, the Jerome L. Greene Foundation, the Alexander S. Onassis Foundation, the New York State Council on the Arts and the Trust for Mutual Understanding.
The Isadora Duncan Dance Group was founded in 1985 by Barbara Kane and Francoise Rageau to promote and preserve the work of Isadora Duncan, as well as to further her artistic and educational principles of movement and dance. Through research and collaboration with the various schools initially established worldwide by Isadora Duncan's first pupils, the Group strives simultaneously to preserve original choreographies and to create new works in order to keep alive the harmonious artistic spirit that embodies this dance. For further biographical information, see Barbara Kane on the Isadora Duncan Archive.
Andromache Karanika is an Associate Professor and Chair at the Department of Classics at UC Irvine. She works on gender and poetics in antiquity and is the author of "Voices at Work: Women, Performance, and Gender in Ancient Greece." She also serves as editor of TAPA.
Thodoris Koumartzis is the co-founder of Luthieros Musical Instruments and the Seikilo Museum of Ancient Music, two collaborative endeavors that conduct research, reconstruct ancient-inspired musical instruments and focus on making them available to today's global music community. Key collaborations include the International Hellenic University, Aristotle University of Thessaloniki, Archaeological Museum of Nicosia (Cyprus), Byzantine Museum of Thessaloniki (Greece), while his family's work is already featured in various prestigious academic and mass media sources, such as the Journal of New Music Research, BBC, Deutsche Welle, etc.
Carolyn M. Laferrière is currently a Postdoctoral Associate with Archaia, Yale University's program for the interdisciplinary study of the ancient world, as well as a Lecturer in the Departments of the History of Art and of Classics. Her current book project, Seeing the Songs of the Gods: Divine Music in Archaic and Classical Greek Art, examines the significance of divine music in ancient Greek art, exploring how musical sounds are communicated in a visual medium and the effect that images of the gods' performance had upon ancient viewers. In 2018-19 she curated Sights and Sounds of Ancient Ritual, an exhibition at the Yale University Art Gallery, which took a cross-cultural approach to its investigation into the sensory experience of ancient ritual practice by focusing upon objects created and used by premodern worshippers in the Mediterranean, China, the Americas, and the Indo-Pacific region. Beginning in the fall of 2020, she will be a Postdoctoral Scholar at the Center for the Premodern World at the University of Southern California. For more information, visit Academia.edu or her website. Her Twitter handle is @cm_laferriere.
Anna Lazou is Assistant Professor in Anthropological Philosophy Athens University (since 2017). She studied Philosophy and Theatre in Athens and London. With a team of choreographers and dance teachers, she has formulated a system of teaching ancient orchesis on multidisciplinary grounds with ancient Greek, gestures and movements for different levels, ages and skills. She intends to start an international program of body and dance techniques and philosophy for lifelong learning and therapeutic practices in the context of Athens University and finalize her long term research on ancient Greek dance. Since 1991 she has coordinated the Study Group of Ancient Orchesis of the Dora Stratou Theatre in Athens and has produced together with members of the group, researchers and choreographers a series of performances and choreographies.
Richard Martin teaches Greek and Latin literature at Stanford, as the Antony and Isabelle Raubitschek Professor in Classics. His primary interests are in Homeric epic, Greek comedy, mythology, and ancient religion. His research is informed by comparative evidence ranging from fieldwork on oral traditions in contemporary Crete to studies in medieval Irish literature.
Kevin McGrath is an Associate of the Department of South Asian Studies and poet laureate of Lowell House, Harvard University. Previous publications include: Windward (2015), Eros (2016), Raja Yudhisthira (2017), and Vyasa Redux (2019).
Angelo Meriani is Associate Professor of Greek Literature at the University of Salerno (Italy). He also gives courses on Ancient Greek music. His main interests in this field regard the terminology of music and sound, and the development of musical theory in connection with ancient philosophy. His research projects include the textual tradition of the Ps.-Plutarch's De musica: a new critical edition will be published in the Teubner series.
Charlie Merriman studied Classics at Cambridge University, where he also played Dionysus in The Cambridge Greek Play 2013: The Frogs (dir. Helen Eastman). He then trained as an actor at LAMDA (London Academy of Music and Dramatic Art), graduating in 2018.
Chris Murray is the founder and director of Govinda Gallery in Washington, D.C. Since 1975, Murray has organized over 200 exhibitions of many of the leading artists of our time, including Andy Warhol in the 1970s and photographer Annie Leibovitz's first exhibition in 1984. Since that time, Govinda has established itself as one of the most innovative contemporary galleries in the United States. Murray has been the author or editor of over a dozen books and catalogs including Soul Rebel: An Intimate Portrait of Bob Marley (2009), John and Yoko: A New York Love Story (2008), and Elvis at 21: New York to Memphis (2006).
Domenico Giuseppe Muscianisi was born in Messina (Zankle) and raised in Milazzo (Mylai), Sicily, both eighth-century colonies founded by the Euboeans. He travelled around Europe to complete and further his studies in the Classics, Comparative Indo-European Linguistics and the art of ballet. Currently, Domenico is fellow researcher for Metre and Linguistics at Harvard's Center for Hellenic Studies and adjunct for Ethnolinguistics and Greek Cultural Heritage at IULM University, Milan. Domenico strongly believes in education and communication of culture and the cultural heritage, and has enhanced his academic activities and artistic skills after becoming a dance journalist and a teacher for Humanities at high school. For more information, visit Academia.edu or his website. His Instagram handle is @domenicomuscianisi.
Born in Budapest, Hungary, Gregory Nagy was educated at Indiana University and Harvard University, where he studied Classical Philology and Linguistics, receiving his Ph.D. in 1966. He has held positions at Johns Hopkins University and since 1975 in Harvard University, where he was named in 1984 the Francis Jones Professor of Classical Greek Literature and Professor of Comparative Literature. He is also currently the Curator of the Milman Parry Collection of Oral Literature and, since August of 2000, the Director of Harvard University's Center for Hellenic Studies.
Mairin O'Hagan is a writer, actor and film maker. She trained at E15 after graduating from Cambridge University. She runs Barefaced Greek together with Helen Eastman, making short films in classical Greek, and Queynte Laydies which specialises in female retellings of history.
Paul O'Mahony is an actor, writer, director and producer. He is the artistic director of Out of Chaos whose shows have toured extensively in the UK, Europe, US and New Zealand. He is also the artistic director of Reading Greek Tragedy Online, an initiative with the CHS to combine scholarship and theatre practice. He has been writing songs with Rob for a number of years, and Delphi the Musical reflects their shared love of telling stories about the ancient world.
The Orchesis Study Group of the Dora Stratou Theater has been operating for decades in Greece and abroad. It was founded by Alkis Raftis in 1992 after the 5th World Congress on Dance Research, "Dance and Ancient Greece", Athens, September 4-8, 1991. Other founding members were: Marie-Hélène Delavaud-Roux, Anna Lazou, Frederick Naerebout, Germaine Prudhommeau. In the course of time, dozens of dancers, actors, researchers and others have joined in the pursuit of combining scientific research and artistic endeavors. Theoretical research has yielded the publication of numerous books, articles and scientific papers at scientific conferences. The practical application includes dance lessons, seminars and performances in collaboration with Universities, Cultural Associations, Municipalities and artistic organizations.
Emma Pauly is a Chicago-based dramaturg, classicist, translator and performer specializing in Greek tragedy. Her work centers on performance and reception of tragedy, particularly in the context of queer themes and representation. Their translation of Eurpides' Bacchae has most recently been published in the translation journal The Mercurian and they are currently serving as dramaturg for the Reading Greek Tragedy Online series with the Center for Hellenic Studies, the Kosmos Society and Out of Chaos Theatre.
Manuela Pellegrino holds a PhD in anthropology from University College of London, and is currently a Fellow at Center for Hellenic Studies, Harvard University, working on a project which investigates protest movements against the environmental crisis affecting Salento (Southern Italy) and Greece. Her previous work among Griko-speakers and activists in Grecìa Salentina (Salento), and "aficionados of Griko" in Greece traces the transformation of language ideologies of Griko diachronically. Her book, Greek Language, Italian Landscape: Griko and the Re-storying of a Linguistic Minority, (CHS, Harvard University Press) is forthcoming in Fall 2020. Her work reflects a longstanding interest as she originally comes from Zollino, a village belonging to Grecìa Salentina.
Anastasia-Erasmia Peponi is Professor of Classics at Stanford University. She works on Greek and Graeco-Roman notions of aesthetic perception and response as these are debated in ancient poetry, philosophy, and critical thought. She has been teaching, lecturing, and publishing on the aesthetics of dance in Greek and Graeco-Roman cultures. Her book Frontiers of Pleasure: Models of Aesthetic Response in Archaic and Classical Greek Thought was published in 2012 by Oxford University Press.
Sylvain Perrot, a former student of the École Normale Supérieure (Paris) and a former scientific member of the French School of Archaeology at Athens, is a junior full researcher at the Centre national de la Recherche Scientifique, in the UMR 7044 Archimède (CNRS – University of Strasbourg). His PhD was devoted to the topic « Musics and Musicians in Delphi, from Archaic times to Late Antiquity » (University Paris-Sorbonne, to be published). He is now preparing a new edition, translation and commentary of the theoretical texts of Aristoxenus of Tarentum for the Collection des Universités de France (Belles Lettres, Paris). With S. Emerit and A. Vincent, he initiated a research programme in ancient soundscapes (Le paysage sonore de l'Antiquité. Méthodologie, historiographie et perspectives, 2015), a part of which was an exhibition entitled « Musiques ! Échos de l'Antiquité » (catalogue published in 2017). His main interest is not only ancient Greek music and soundscapes, but also their reception in medieval and modern times.
Rachele Pierini holds a PhD in Classical Philology and Historical and Comparative Linguistics. She is currently Research Fellow at the Harvard Center for Hellenic Studies and has been Research Fellow at the University of Bologna, Complutense University of Madrid, and University of Cambridge. Her work combines Philology and Linguistics in the study of Bronze Age Aegean scripts, with a primary focus on diachronic and areal studies of the Greek language. Outside academia, Rachele has a wide range of interests encompassing leisure reading and music, which she has professionally studied until her late 20s. Rachele is deeply committed to supporting women in Classical studies and disseminating knowledge through outreach activities, for which she has been awarded the prize of "Cultural Ambassador" in Italy (2019) and the grant "Classics Everywhere" of the Society for Classical Studies (2020).
Judith Pratt is an installation artist. She holds an MFA from American University in Washington, DC and an MA in Modern and Contemporary Art History from Christie's Education, New York. She also served as curatorial assistant at the Morgan Library and Museum in New York. Pratt was selected as a 2020 Semifinalist for the Sondheim Artscape Prize. Her work will also be exhibited in the upcoming Taubman Museum's 2020 Triennial, Homeward Bound (Curator: Nandini Makrandi). Recently, her work was included in Arlington Arts Center's first Biennial, Assembly (Curator: Blair Murphy) and The Athenaeum's Notes of Color exhibition (Juror: Molly Berger Salah, National Gallery of Art). Pratt's recent solo exhibitions include Second Street Gallery, Phillip Johnson Towers Crescent Gallery, International Arts & Artists at Hillyer, The Alexandria Commission for the Arts, City of Alexandria, and others. Her work is included in the collections of Abramson & Associates, Cerberonics Corporation, GTE Telenet Corporation, Lockheed Corporation, Rozansky and Kay Corporation, as well as numerous private collections. She also received a Purchase Award for her work juried by Olga Hirshhorn for Abramson & Associates, Washington, DC. Pratt was awarded residencies at Moulin à Nef in Auvillar, France, the University of Virginia's Mountain Lake Biological Station in Pembroke, Virginia, and the Virginia Center for the Creative Arts in Amherst, Virginia. Her work has been reviewed in ARTnews, The Washington Post, Hyperallergic, and East City Art. She is Vice Chair and Program Chair of the Washington Sculptors Group, a 400-member organization that serves artists in the greater Washington, DC region. She lives and works in the Washington, DC area.
Christoph Quarch is a philosopher, university lecturer, bestselling author and thought leader for companies. In his numerous publications, he draws on the tradition of European philosophy to provide contemporary perspectives for a good personal and social life. In 2020, he founded the New Platonic Academy, which as a thought garden intends to cultivate the Spirit of Aliveness in the contemporary world. For more information, visit his websites: www.christophquarch.de / www.akademie_3.de.
Heather L. Reid is Professor of Philosophy at Morningside College in Sioux City, Iowa and Scholar in Residence at the Exedra Mediterranean Center in Siracusa, Sicily. She is a 2015 Fellow of the American Academy in Rome, 2019 Fulbright Scholar at the Università degli Studi di Napoli Federico II, and 2018-2020 Fellow of Harvard's Center for Hellenic Studies in Washington DC. As founder of the Fonte Aretusa organization, she promotes conferences and publishes research on the heritage of Western Greece. Her books include Olympic Philosophy (2020), Introduction to the Philosophy of Sport (2012) Athletics and Philosophy in the Ancient World: Contests of Virtue (2011), and The Philosophical Athlete (2002, 2nd ed. 2019). Her current research focuses on the virtues and values of women's sport in the ancient world.
Marc Robarge is a sculptor concerned with environmental and social issues, specifically how human systems impact and are intertwined with ecological systems. He recently was selected for an artist residency at Mountain Lake Biological Station in Virginia, where he produced some of the work for this exhibition. He has exhibited nationally, including a recent two person show at Hillyer Art Space in Washington DC, and a solo show at Mountain Lake Biological Station. He lives and works in Falls Church Va, the friendly "Little City" with a healthy tree canopy.
Carol Rumens was born in South London, and currently lives and works in North Wales, where she teaches Creative Writing at Bangor University. Her most recent poetry collections are Animal People (Seren, 2014), Perhaps Bag (Sheep Meadow Press, 2017) and The Mixed Urn (Sheep Meadow Press, 2019). Her chapbook, Bezdelki: Small Things, illustrated by Emma Wright (The Emma Press, 2018), won a Michael Marks Award for Best Pamphlet. She is currently working on a sequence of poems exploring and comparing the lives, beliefs and identities of Welsh and Sufi mystics.
Michiyo Sato received a Master of Dance Education degree from NYU along with the Dr. Patricia Rowe Award for "Outstanding Commitment to Dance Education." In 2004 she had sold-out evening concerts titled, "SILK AND UME BLOSSOMING: To Women of Japan" at Joyce SoHo in New York, and the New York Times declared that she "has a sophisticated way with style and content." Together with Dr. Jeanne Bresciani, she has held a series of performances and workshops at Tama Art University in 2000, the British Museum in 2001, the International House in Tokyo in 2004, the Asahi Art Square in 2006, a series of universities across Taiwan in 2007, the World Dance Festival between 2008 and 2014, the Yokohama Forum in 2010, and WAVE 101 in Urayasu in 2012 and 2014. Each autumn since 2012, to support those affected by the Great Northern Earthquake and Tsunami in Japan, she brings her works and those of Isadora Duncan to Fukushima schools.
Leon Scott has worked extensively as an actor and musician in UK theatre and television, as well as working as a musical director for theatres including Shakespeare's Globe. He is General Manager of the Boulevard in Soho – London's newest theatre.
Michael Scott is a Professor of Classics at the University of Warwick, UK. He has written extensively on Greek history, society, culture and religion, on the early development of the Silk Roads, and on the reception of the ancient world in the modern. He has been recognised for his teaching with a National Teaching Fellowship and Principal Fellowship of the Higher Education Authority. He is an honorary citizen of Delphi, President of the largest regional branch of the UK Classical Association, and Trustee and Director of the UK charity Classics for All. He has written and presented numerous TV documentaries about the ancient world for BBC and ITV in the UK; Nova, PBS and National Geographic in the US, and SBS in Australia.
Jeffrey O. Segrave is professor of health and human physiological sciences at Skidmore College, Saratoga Springs, NY. He was awarded the David H. Porter Endowed Chair in 2005. His main area of scholarly interest lies in the socio-cultural analysis of sport; hence, he embraces an interdisciplinary approach that seeks to study sport at the intersections of history, sociology, and literature. His primary scholarly focus is on the history of the Olympic Games. He has published more 20 book chapters and more than 60 articles on sport in a wide variety of journals including the Journal of Olympic History, Olympika: The International Journal of Olympic Studies, Stadion: The International Journal of the History of Sport, and International Review for the Sociology of Sport. He has also published two anthologies on the Olympic Games—Olympism (1980) and The Olympic Games in Transition (1988) and lectured several times at the International Olympic Academy.
Alex Silverman is an award-winning Composer and Musical Director who works mainly in the theatre. He has made music for shows in many of the UK's major playhouses, including a dozen at Shakespeare's Globe, and in 20 countries worldwide. A classicist by training, Alex has been Composer and Music Director for the Cambridge University Greek Plays since 2010. Get in touch, or hear more at alexsilverman.co.uk.
Andrew Earle Simpson is an acclaimed composer of opera, silent film, orchestral, chamber, choral, dance, and vocal music based in Washington, DC. His musical works make multi-faceted, intimate connections with literature, visual art, and film, reflecting his own interest in linking music with the wider world, an approach which he calls "humanistic music." He is ordinary (full) professor and Director of the Master of Music, Stage Music Emphasis program at the Benjamin T. Rome School of Music, Drama, and Art of The Catholic University of America in Washington, DC. For more information, see andrewesimpson.com or follow him on Twitter @Andrew_Simpson.
Laura M. Slatkin is Gallatin Distinguished Professor in Classical Studies and Interdisciplinary Studies, New York University, Gallatin School and Deptartment of Comparative Literature. She is also Visiting Professor in the Committee on Social Thought, University of Chicago. Her research and teaching interests include early Greek epic; wisdom traditions in classical and Near Eastern antiquity; and the reception of Homer.
Tyler Jo Smith is Professor of Classical Art and Archaeology at the University of Virginia, where she also serves as Director of the Interdisciplinary Archaeology Program. For the academic year 2019-2020 she was Elizabeth A. Whitehead Professor at the American School of Classical Studies at Athens. She has published extensively on the relationship between art and performance in ancient Greece, and on votive religious practices in ancient Lycia and Pisidia (modern Turkey). Her book entitled Religion in the Art of Archaic and Classical Greece is forthcoming with University of Pennsylvania Press.
Carrie Tron is the director of Dance Nyaad, a professional training school for young dancers that emphasizes the classical techniques of Ballet and Modern Dance. She has been trained in the Vaganova style of ballet technique as well as in the work of Isadora Duncan.
Dimitri Vassilakis is an internationally acclaimed Greek saxophonist, vocalist, composer and educator. He has recorded 5 award-winning albums for the historic jazz label Candid Records. His Daedalus Project-Labyrinth was awarded album of the year from the BBC. He has played around the globe, notably in New York at Dizzy' s Club Coca Cola at The Lincoln Center, Birdland, Yale, Natural History Museum Washington DC for the Smithsonian Institute, Jazz Showcase Chicago, Onassis Cultural Centre New York, London Jazz Festival Royal Festival Hall, Ronnie Scott's, South Africa and Asia Tours and major festivals in Europe and the Balkans. He has taught and presented seminars at Yale, Queens, Skidmore, Columbia, DePaul, Georgia Tech, Royal Academy of Music, Paris Conservatoire, Singularity University, Athens Kapodistrian, Aristotle and Macedonia Universities. He presented his concept "Jazz Democracy" as a global forum/performance at the United Nations in New York on April 30, 2018 to celebrate International Jazz Day.
Christopher Williams, hailed as "one of the most exciting choreographic voices out there" (The New York Times) and "the downtown prodigy" (The New Yorker), is a New York Dance & Performance "Bessie" award-winning choreographer, dancer, and puppet artist who has created over thirty original and collaborative works in New York City and abroad since 1999. Williams has been awarded fellowships from The New York Foundation for the Arts, The Foundation for Contemporary Arts, The Center for Ballet and the Arts, and the Bogliasco Foundation, and has held creative residencies at New York Live Arts, Kaatsbaan International Dance Center, Yaddo, The Yard, Robert Wilson's Watermill Center, the 92nd Street Y, The Anderson Center, on Captiva Island via the Robert Rauschenberg Foundation, through Movement Research, and at Harvard University's Center for Hellenic Studies. Visit his website or follow him on Istagram @faycavalier.
Cynthia Word is the Artistic Director of Word Dance Theater (WDT). Born and raised in Abilene, Texas, she has a Bachelor of Science for the University of Texas/Austin, but began her Modern Dance training at the University of Illinois. She later received her Master in Fine Arts from The George Washington University, where she served on the teaching faculty. Based in Washington, DC, she creates award-winning Isadora Duncan-based dance/theater productions, blending compelling story, live music, contemporary choreography and the dances of Isadora Duncan to create theatrical productions that are powerfully engaging to audiences. Her most recent creation, MOVE! Womens Rights from ISADORA DUNCAN to NOW, premiered at the John F. Kennedy Center on March 4, 2020.
Dr. Maria G. Xanthou, FHEA, is a Senior Research Associate at the University of Bristol, teaches history of Greek civilization and culture at the Hellenic Open University, and is a Research Associate in Pindaric Studies at Harvard CHS. She has been awarded individual research scholarships and fellowships from Seeger Center for Hellenic Studies Princeton University, Harvard CHS, University of Oxford, Hellenic State Scholarships Foundation, Aristotle University of Thessaloniki Academic Excellence Scheme, and Nicos and Lydia Trichas Foundation for Education and European Culture. Her interests lie within the intersection of ancient history, material culture, and classical philology, and include epichoric identities in the coastline of Northern Greece, resilience in ancient communities and urban clusters, history of emotions, Greek lyric poetry, both monodic and choral (Stesichorus, Pindar, and Bacchylides), Aristophanic and Attic comedy (5th c. BCE), Attic rhetoric (Isocrates), history of classical scholarship, and e-learning
Nikos Xanthoulis is a composer, ancient lyre player and researcher. He served as principal trumpet player in the Orchestra of the Greek National Opera for 25 years and as Artistic Director of the Public Broadcasting Orchestras and Choirs (2014-2015). He is also a corresponding member of the Archaeological Institute of America. As a soloist and composer has presented his music in more than 30 countries. He is Assistant Researcher at the Academy of Athens and Artistic Consultant at the Greek National Opera. More information is available on his website.
The Committee for the Reinstatement of the Delphic Games aims to revitalize the sacred and ancient tradition of the Delphic Games by celebrating art, music, dance, poetry, song, myth, sport, and theater. Apollo, the Greek god of music and the "Leader of the Muses," is associated with Delphi — the "navel" of the earth — a major religious center for the ancient Greeks and the location of the Pythian Games, which not unlike the Olympian Games, featured athletic and musical competitions. Taking inspiration from the humanistic values of the Amphictyonic Council, which managed the sanctuary of Apollo at Delphi, the Festival promotes the Delphic Ideal: peace through cultural diplomacy, freedom of creative expression, and reverence for the environment.
Building on the previous festival reinstatements of 2005 and 2017, The Isadora Duncan International Institute and the Ecumenical Delphic Union, with support from the Center for Hellenic Studies, are leading the initiative to organize the next Festival of the Delphic Games in 2021. The Games will include five days of world-class lectures, intensive workshops, leadership initiatives, round-table discussions, and performances, held on Mount Parnassus in the sacred landscape of Delphi. Events will facilitate an international network of artists and researchers, and promote, in particular, practitioners and scholars working in Greece. This 'Delphic' impetus will offer opportunities for people of all ages to participate with platforms for researchers, artists, and the local Greek community to engage.
The call for entries relevant to presenters and performers at the Festival of the Delphic Games 2021 will be available in Fall 2020.
---