To register for Cynthia Word's visiting artist presentation taking place on Friday, May 21, 2021, at 11:30am EDT / 6:30pm Greece, please visit the event page.
---
Cynthia Word is the Founder and Artistic Director of Word Dance Theater, www.worddance.org.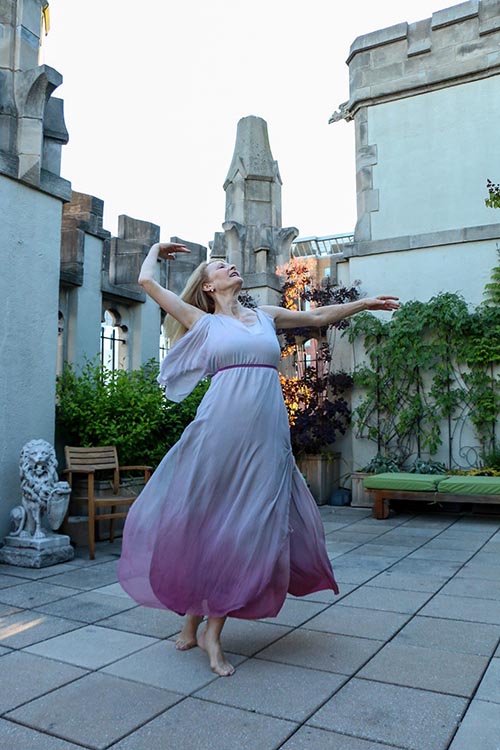 Ms. Word has a Bachelor of Science from the University of Texas/Austin and began her professional Modern Dance training at the University of Illinois/Champaign-Urbana, with in-depth experience in the technique and choreography of Doris Humphrey and Jose Limon. In 1992 she received her Master in Fine Arts from The George Washington University/Department of Theater and Dance, where she served on the teaching faculty. From 1990 to 2005, Word travelled throughout the United States and Europe as a teaching artist for the Kennedy Center for the Performing Arts/Washington, DC, and the Wolf Trap Center for the Arts/Fairfax, Va. In 2005, in the midst of her performing and teaching career, Ms. Word had the delightful surprise of discovering the technique and choreography of Isadora Duncan. She immediately began intense study with Dr. Jeanne Brescianni, Director of the Isadora Duncan International Institute.
Based in Washington, DC, Ms. Word is passionate about creating performance events that blend compelling story, live music, contemporary choreography and the classic dances of Isadora Duncan to provide engagement for audience members through many modalities. She has created and produced nine evening-length dance/theater productions since 2001. The most recent, "MOVE! Women's Rights from Isadora Duncan to NOW", premiered March 3, 2020 at the Kennedy Center to sold out audiences. MOVE! was scheduled for three more performances at the Women's National Democratic Club/Washington, DC, but, sadly, these performances were cancelled due to COVID. Other recent productions include "Chambers of the Heart", premiered in 2016 at the elegant and historical Josephine Butler Mansion. It is an immersive dance/theater event exploring the many ways Love appears in our lives. "Once Wild: Isadora in Russia" was awarded Outstanding Group Performance and Outstanding Media Design by Dance Metro D.C. in 2013. In 2010 The Isadora Duncan International Institute awarded Ms. Word the prestigious Maria-Teresa Duncan Award for Excellence for the mix media theater/dance production "Preludes: Duncan, Sand & Chopin". Ms. Word continues her dance studies with her mentor, Jeanne Bresciani, Director of the Isadora Duncan International Institute.
In addition to the larger dance/theater productions, Word Dance Theater presents numerous salons and immersive performance experiences at small, intimate spaces.
---
A SHORT SAMPLE OF REVIEWS
To see more about our performances and educational programs, please go to www.worddance.org.
LANDSCAPES OF THE SOUL: "As the preludes built toward their final wrenching chords, the three women danced in succession, leaping, spiraling and turning in near ecstatic reverie. Throughout, the spoken-word sections alluded to contemporary struggles—the loss of a teacher to gun violence, a witness to people dying in a refugee camp—and triumphs of the spirit."
– Lisa Traiger, DC Metro Theater Arts, 2018
CHAMBERS OF THE HEART: "[Chambers of the Heart] left one with a lot to think about on the nature of performance – and how we relate to it."
– Sarah Kaufmann, The Washington Post , 2016
ONCE WILD: ISADORA IN RUSSIA: "A beautifully rendered production… Once Wild is an important creation, but its greatest achievement is as a bold new work of art. This is a collaborative work of the highest order, a labor of love that turns on the same devotion to art and excellence that moved Irma herself."
– Sarah Kaufman, The Washington Post, 2013
---