Mnemosyne – Traversing Boundaries on Meandering Routes of Memory
Mnemosyne
A memory is dependent on the episode that occurs, and only with the passage of time, when this episode remains or is transformed into a memory, does the episode itself acquire greater meaning, as something worthy of remembering. Each memory, then, is an act of creation. That which is remembered is transformed through our consciousness and imagination into an entirely new and unique being, distinct from its original. As a result, memory has the creative power to evoke imaginative forms through which mankind represents the reality of its experience.
All forms of art and expression are imperfect imitations of an ideal, and it is in the nuances of their imperfection that their value and meaning lies. While each memory of reality has a different frame, the reality stays the same. The way in which our remembrance frames reality changes everything. The essence within the frame may be the same reality, but in each act of remembrance we frame that essence in a different way and we create a different being. Therefore, the more real an imitation is the more fraudulent it becomes, because it attempts to deny the necessarily subjective nature of memory and imitation.
simulacrum (phantasmata) – through memory we attempt to imitate nature
Plato: autopoietikè the construction of things in an attempt to depict an ideal form (truth, beauty, goodness), that by its very nature is unreplicable.
Aristotle: The realistic (albeit still necessarily imperfect) depiction of a thing or an ideal does not have greater value than a less realistic one. Only by distancing ourselves from, but still engaging with, the reality of the thing or the moment can we experience catharsis.
---
William Adair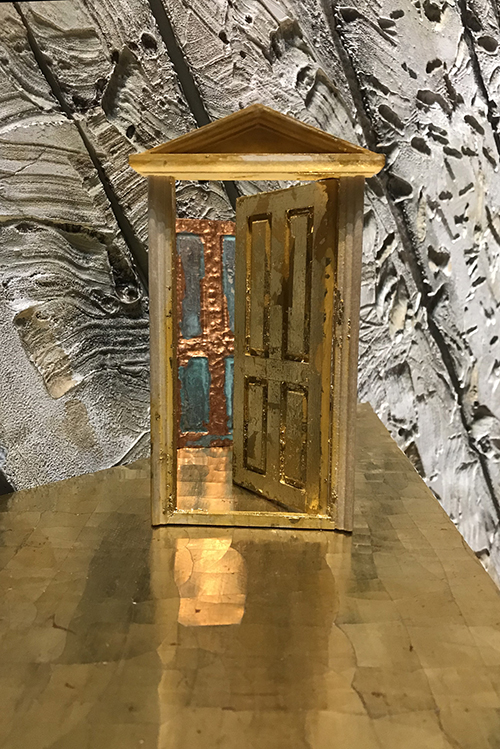 William Adair is recognized for his work as a conservator and historian of picture frames. In the early 1970s, he began working at the Smithsonian's National Portrait Gallery, where he became a museum specialist focusing on gilding, frame history, and the connections between fine art and traditional decorative arts. He founded Gold Leaf Studios in 1982 in Washington, DC, where he built his renowned career as a frame maker and gilder. Adair leads workshops, lectures, and organizes exhibitions about frame history, frame making, and gilding.
Adair's artwork is in numerous collections, including the Smithsonian American Art Museum. In 1991, he received the Rome Prize in design from the American Academy in Rome. In 2011, Montgomery College hosted a retrospective exhibition of his career as an artist and frame maker.
​ He is represented by Govinda Gallery in Washington, DC.
---