---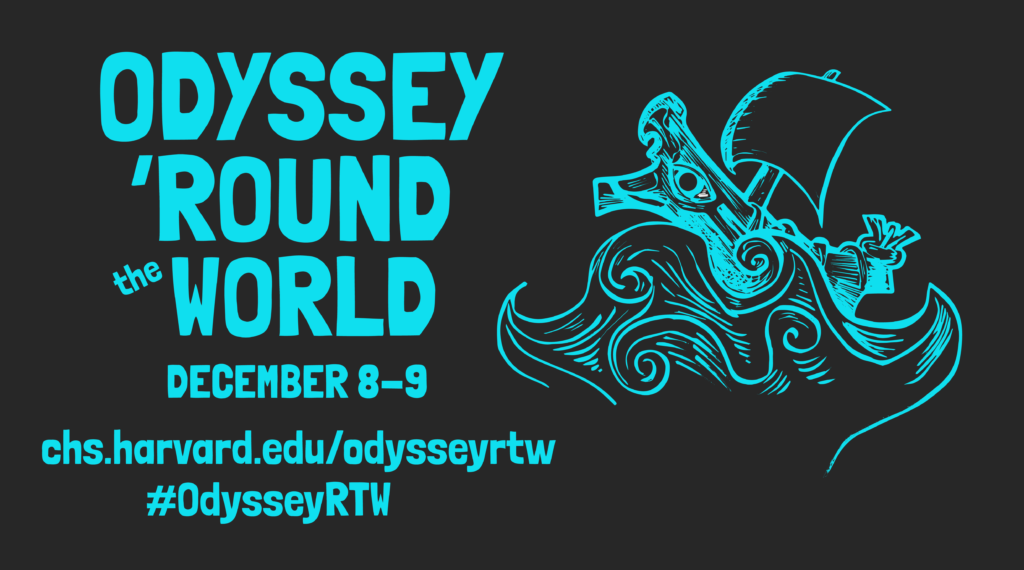 Part of Reading Greek Tragedy Online, Odyssey 'Round the World is a 24-hour event that will feature performances of every rhapsody of the Odyssey, recorded by students, faculty, and actors around the world. 
A rhapsody will be released on the CHS YouTube channel every hour, on the hour, beginning December 8 at 4pm EST / 9pm UTC.
Schedule
All times below in UTC. View the YouTube playlist or follow the links below to access the videos.
9pm Rhapsody 1 – Out of Chaos Theatre, performed live by international ensemble
10pm Rhapsody 2 – Xavier University
11pm Rhapsody 3 – Actors in Mexico City and Lima, led by Carlos Bellato
12am Rhapsody 4 – Universidad Nacional de La Plata and Knox College
1am Rhapsody 5 – Dalhousie University
2am Rhapsody 6 – Leigh Ann Cowan of the Odyssey Filming Project
3am Rhapsody 7 – University of Sydney
4am Rhapsody 8 – Gonzaga University
5am Rhapsody 9 – University of Malawi
6am Rhapsody 10 – University of Theatre and Film Arts, Budapest
7am Rhapsody 11 – Institut Français d'Afrique du Sud
8am Rhapsody 12 – Australian National University and Fudan University
9am Rhapsody 13 – Out of Chaos Theatre, performed by actors in Cyprus and Greece
10am Rhapsody 14 – University of Oxford
11am Rhapsody 15 – Brandeis University
12pm Rhapsody 16 – University College London
1pm Rhapsody 17 – Universidad Complutense de Madrid
2pm Rhapsody 18 – Koç University and University of Illinois at Urbana-Champaign
3pm Rhapsody 19 – Universidade de São Paulo
4pm Rhapsody 20 – Università di Bologna
5pm Rhapsody 21 – Texas Tech University
6pm Rhapsody 22 – Kosmos Society
7pm Rhapsody 23 – University of Zagreb
8pm Rhapsody 24 – Out of Chaos Theatre, performed live on Reading Greek Tragedy Online
---